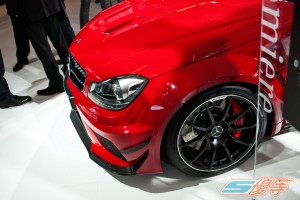 One more "100 seconds of…" video (SEE THEM ALL HERE) for you to enjoy from FRANKFURT IAA 2011 with the Mercedes C63 AMG "Black Series". This concludes our saturday which had a bit of a "tuning special" to it, but we have a lot more from this segment of the expo as well…
Seeing this video, I think its one of the best ones and was done early in day one with plenty of focus and on a car we both (me and photographer Martin) liked a lot.
Wish all the clips could have been like this, giving you plenty of details and a fun fact or two- but generally I stand by that all we are doing is to "scratch the surface" for all of you and the clips do that well!
VIMEO:
Frankfurt IAA Auto Expo 2011 – 100 seconds of Mercedes C63 AMG Black Series from Superior Media on Vimeo.
YOUTUBE:
httpv://www.youtube.com/watch?v=Cn6_4f9y0uI
You could use both hands and your feet to try and account for how many "must have" cars we found at the expo, but being a bit balanced I feel this is one bad motherf*cker that would not only own a lot of cars in appearace- but most certainly in performance firsthand as well…
That concludes todays efforts to get all the material from FRANKFURT IAA of our hands and into yours. I think we're about 75% on the road here until its all out, so keep enjoying the ride! 🙂