As always, the Swedish car-scene opens with the CUSTOM AND MOTORSHOW expo at Easter weekend- and as usual one of the most establish showcar-builder names in the country makes a big release. We would like to present Lukas Koos latest project:
Mazda RX-8 "Zitrix" (Youtube):
httpv://www.youtube.com/watch?v=iJG_ZMu3h2o
Vimeo:
Lukas Kooz – Mazda RX-8 "ZITRIX" @ Bilsport Performance & Custom Motor Show 2011 from Superior Media on Vimeo.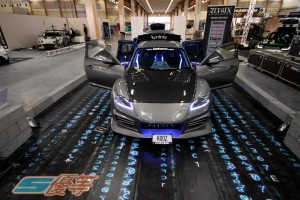 We hope you enjoy it, we will be attending the expo all weekend and hope despite a busy schedule to present similar high-quality productions of the best cars making their debuts here.
With several of the Superior-family members being here and with an almost TV-studio like arrangement- we hope you will stop by regularly to watch our clips (and naturally if you are Swedish, read our blog).
Please check our http://main.superiorimports.se/elmia-2011-blogg link all weekend, and make sure to comment if you like what you see!
Välkände bilbyggaren Lukas Koos har varit i farten igen, vad vore ELMIAMÄSSAN utan att älska eller hata hans stylingbilar? I år har han faktiskt mer än en bil utställd, och detta är officiella premiären på Mazda RX-8 "Zitrix" som han kallar den!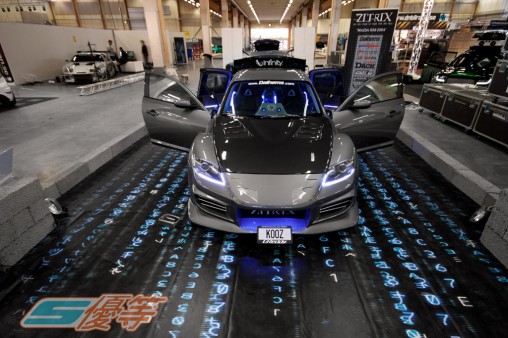 Till detta år är det hela lite mer nedtonat mot hans tidigare galna showbyggen, men visst känner man igen sig- denna gång med ett subilt The Matrix tema. Låter det vara upp till er att tycka och tänka om denna kärra. Har Lukas nu gått full circle och verkligen etablerat sitt styling-koncept; eller är det som hans antagonister säger att idéerna är slut…?
Den största nyheten är att det under morgonkvisten så fort vi nått mässan igen och fått lite ny tid, har en HD-produktion med det allra bästa av bilen från alla vinklar och vrår! Därför ber vi er ta detta lilla fotografi taget av Rani "RANISFOTO.SE" Giliana som en försmak av filmen helt enkelt! 🙂
Känner ni att bilsäsongen officiellt är invigd nu, finns det något tydligare tecken på det än att Elmia är i full gång och debatten om "Kooz senaste" än en gång tar vid…?
Lovar att om ni ännu känner er lite sömniga från vintern, så kommer SuperiorTV få er att vakna på allvar under hela Påskhelgen. Massa på väg ut under dagen!