Fresh out of factory, the two new stars of the tuning industry are Toyota GT86 and Subaru BRZ. There was no time wasted as we already saw some examples of accesiories being ready for the big market on display at Tokyo Auto Salon 2012.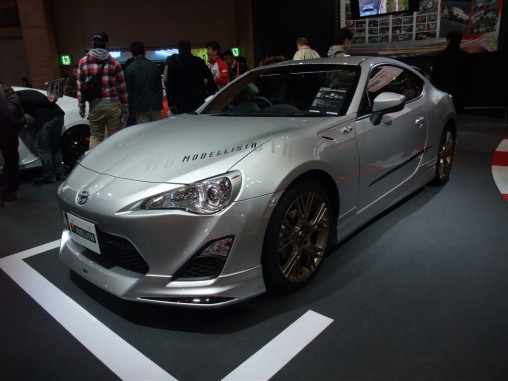 A lot of effort has been put into not just making these two rear-wheel drive cars the most fun you can have with a modern (affordable) sportscar; the whole strategy of "re-inventing" the tuning-industry is also more then just an understatement.
That means that we will se plenty of bodykits, bolt-on performance parts and such to both the models. Naturally, everyone will jump on the band-wagon and some will probably indeed find new life to their businesses while others will fail and miss out:
Winning: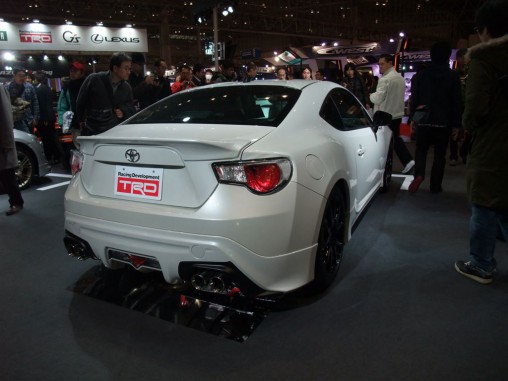 Failing: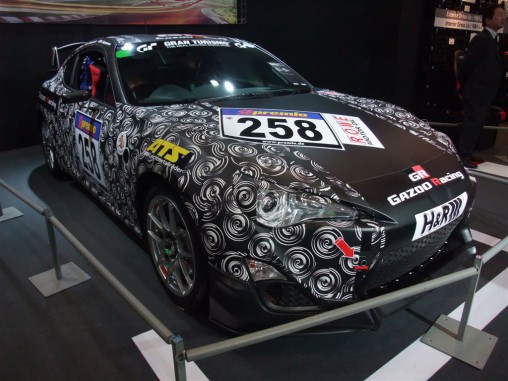 Some other big news which Seiji @ REVOLT-IS who is our partner on location at the expo; was that HKS are returning to the D1 circus with a Toyota GT86 driven by no other then "Nob" Taniguchi.
Surely makes up for the loss the series suffered when Ken Gushi left for Formula Drift to drive the very same car. How do you like the livery of the HKS car, basically the same as most of their democars in the 90's:
Video of exhibition:
Pretty raw stuff, but gotto see and hear a lot more in quality material before we pass judgement of this car. One thing is for sure, everyone that has test-driven one have been raving about how fun it is to drive- just have to hope the pricetag will be easy to swallow…!
Got a lot more coming from the Tokyo Auto Salon as Shiji @ REVOLT-IS continues to run around trying to snap the very best cars. Be sure to check out their FACEBOOK, click the banner below to go there!
We'll try and get another mixed gallery out during the day. In the meantime "Like" OUR FACEBOOK to see a lot of random pics popping up throughout this sunday!
The new Nissan GT-R (sadly, no longer called Skyline even in Japan) has been the adrenaline jolt the tuning-industry needed for a while. Thats pretty obvious, so equally predictable we have a plethora of them exhibited at the Tokyo Auto Salon 2012.
While the basics for tuning this fantastic and borderlinge boringly fast machine are out there; there is a game-changer on the field right now when it comes to exterior tuning- BENSOPRA.COM!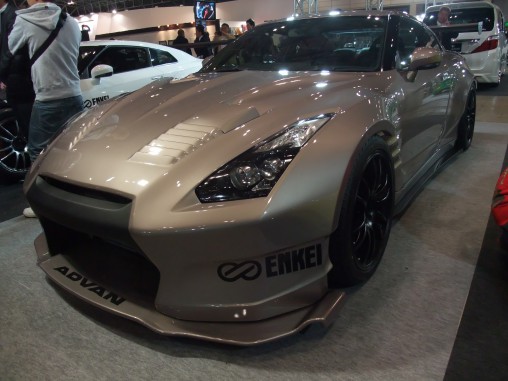 We already showed you a picture of GReddys own GT-R having a kit from this company, but the talk of the town was that there were supposed to be three of them on location. Well, here you have the third one: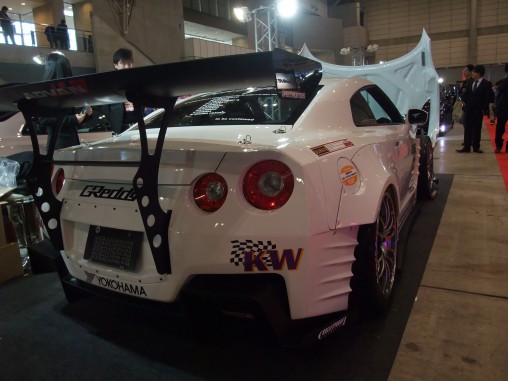 As you can see, this is all about business and the way they do it- is by an abundance of performance. It will be an interesting season indeed at the different Time Attack events going down in Japan.
If Iam not mistaken there is nowdays even a Nissan GT-R only event; and that my friends surely has legen-dary written all over it…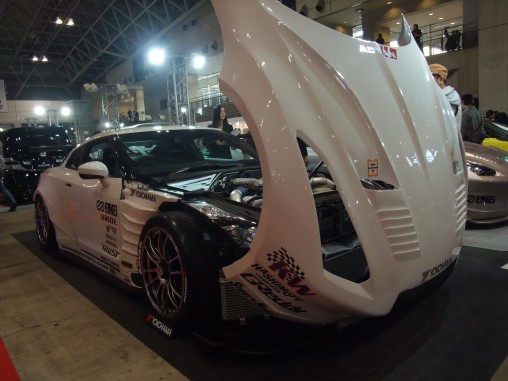 But there is still love left for the BNR34 generation, actually the final true "godzilla" as they've left the Skyline name for good (?). This below car is from Garage: Defend who have always been good at doing really mad aero for all generations of the legend: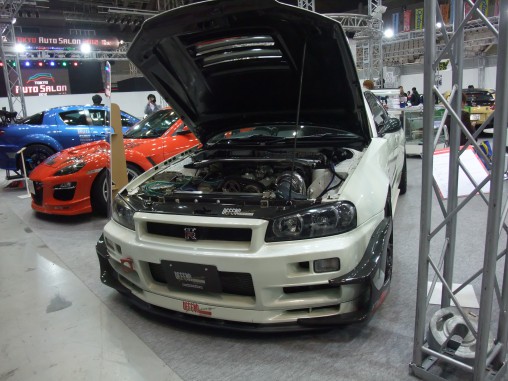 Looking at the turbine shining brightly under that bonnet, I still believe it would give plenty of even highly tuned Nissan GT-R's a run for their money. As a good example, our own BNR34 democar almost beat a P800 powered one in a Time Attack a while back:

JDM Face-Off Time Attack 2010 @ Mantorp Park from Superior Media on Vimeo.
But a lot has changed since then, and even the factory ones are scarily fast. Definately a dream car for anyone, and seeing the creme de la creme of them here at the Auto Salon does nothing to decrease the amount of daydreaming about owning one!
Another special "Thank you" to our man on location; Mr. Seiji Ishikawa and his group REVOLT-IS.
Follow us ON FACEBOOK for more pics being randomly posted during the day. Got a gallery of Toyota 86 / Subaru BRZ coming later tonight as well!
Our coverage together with REVOLT-IS (CLICK!) on the Tokyo Auto Salon continues, and we have a mixed batch of pictures coming with something for everyone.
Later during the day we got two smaller galleries of the different Nissan GT-R and Toyota AE86 / Subaru BRZ cars being exhibited.
Looking through the photographs taken by REVOLT-IS site owner Seiji, I see this years crop of exhibited cars is much better then last years expo.
But you still gotto wonder if it might be time to "re-invent" some of the styles that have dominated the tuning-industry for a while, like this RX-8 IMO does well: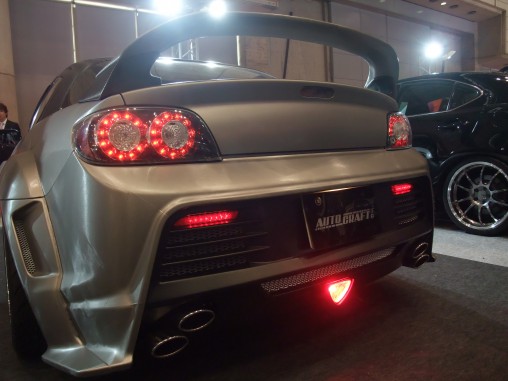 Not saying this style brings us something new, its just a fresh mix of many current trends such as "satin finish" paintjob, modern "diffuser-type" rear and interesting details with the Lexus IS-F exhausts.
Dont forget the fog/brakelights as well which really set this RX-8 off, just something about the final result which feels "quality" for me?
Furtherly looking at builds which fall into my taste, we got the Honda CR-Z Mugen concept that can also get a vote for being one that really stands out: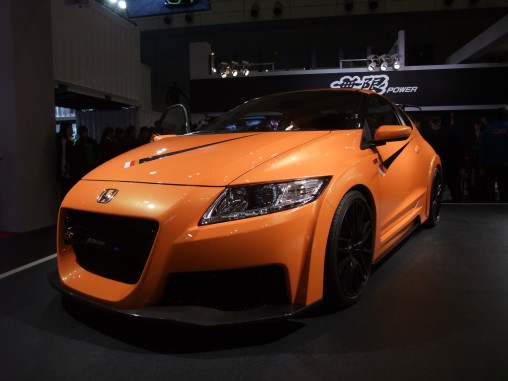 Should you force the issue, a good example of how time flies and cars that just a few years ago (even in Sweden) would be considered hot; feel sort of old and out of place.
This Mazda RX-7 by Scoot is such a car, even if we can't hold much against it since its powered by a quad-rotor engine: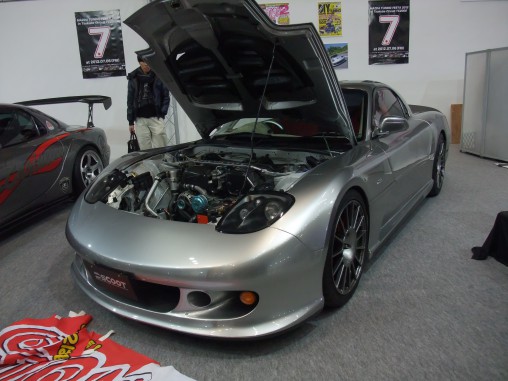 Speaking of rotaries, Mr. Ishikawa was kind enough to zoom by the RE-Amemiya stand and catch a quick video on what they had to offer.
Its mostly the Porsche influenced kits they have sold for over a decade, but in the final seconds- you get a close up of their (spacy?!) NA-powered concept car:

All the videoclips and plenty of pics between blogposts can be found on OUR FACEBOOK (CLICK!) and naturally the REVOLT-IS group, although Seiji and his crew are keeping busy during the days.
So enjoy the below gallery, feel free to comment if you have any favourites!
Keep an eye out here as later tonight we prepare a Nissan GT-R gallery, and a while after that a small special on all the new "AE86" being shown. Enjoy!
We are off to a really good start when it comes to pictures and video from the Tokyo Auto Salon 2012 which opened for business/press just a very few hours ago.
On location we have Seiji @ REVOLT-IS who has been taking pics right from the get-go, and even managed to sneak in a few short videoclips (hosted on OUR FACEBOOK!).
Clearly, this is just like SEMA a while back focused a lot on the Nissan GT-R which has been the primary tuning base for most big brands. In this gallery you can see them all, from Top Secret, Trust / GReddy and there is now something new to fear in the Time Attack circus with a brand new "Cyber GT-R":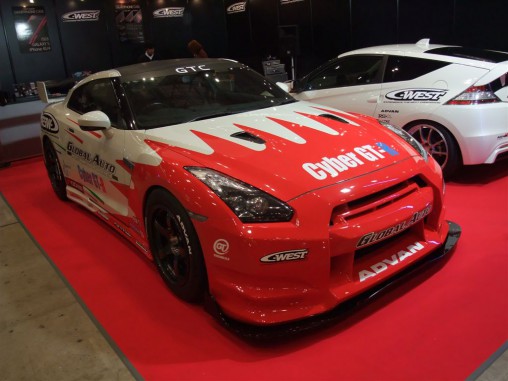 Since we all know the original "Cyber EVO" was longtime trading first places with the HKS Evo VI for many years, we can only imagine what this beast will have to offer.
Concluding the whole GT-R talk we would like to share one of Seijis videoclips, where he gets up close to the Greddy x BenSopra widebody GT-R which will definately be one of the most talked about cars of the expo:

As you can clearly see, this cars motto must be "no mercy" with its extreme forms to primarily do battle on the circuit. This season looks hot right from day 1 when it comes to Time Attack battles…
We will continue the coverage on OUR FACEBOOK PAGE where all the short clips will be hosted as well.
Dont miss Seijis own REVOLT-IS group where he also puts out some on the fly photos covering the center of the JDM-world in one weekend!