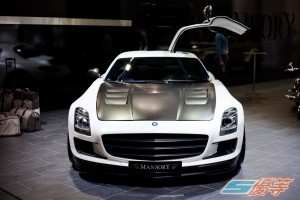 Sinking our teeth into Hall 5 at the FRANKFURT IAA 2011 EXPO we got all the über-premium tuners under one roof with brands like Mansory, Brabus, Carlsson, Weissman, Techart, Hamann and more & more…!
We were not as enchanted as our GUEST BLOGGER SIR PIERRE, but did return more then once to get a closer look on some cars. Its with some regret I did not give even more time to these astounding supercars who have gotten and even sharper edge to them with labour of the absolutely highest degree.
There will be another write-up by Pierre who is much more familiar with these big dogs of the aftermarket $$$-sccene; but right now Martin BILBILDER.SE Perssons pictures will give you more SELECTED GALLERY wisdom to entertain your eyes with…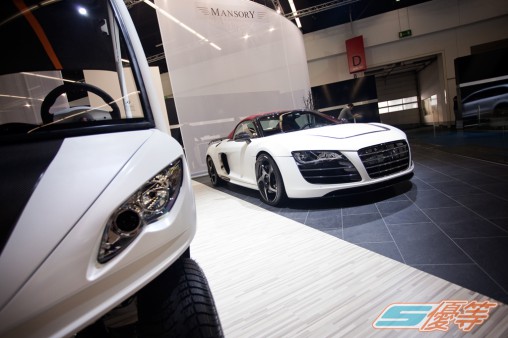 (English exterior tuner MANSORY brought their A-game to the expo and had probably the second largest presence in Hall 5 after Brabus. They had a themed matte white/carbon thing going and you had supercars from around the world to look at. What you see here is not just an Audi R8 but a custom Golf cart (!) as well, moral of this story is that a certain Horacio Pagani was eyeing it live in front of me while I was there. Hmm?)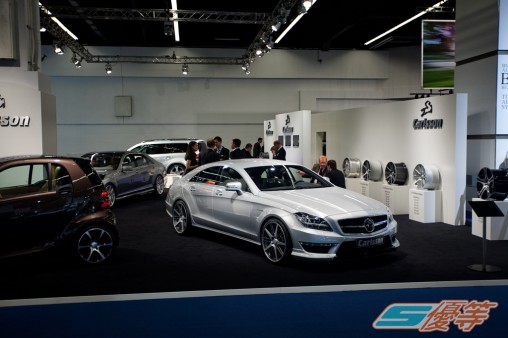 (Carlsson has been tuning Mercedes forever it seems, and they put a lot of focus on their own wheel collection which I found very appealing. If its one thing the Germans be it ultra-premium tuners like these guys know; its how to keep it simple and classy when it comes to wheels.)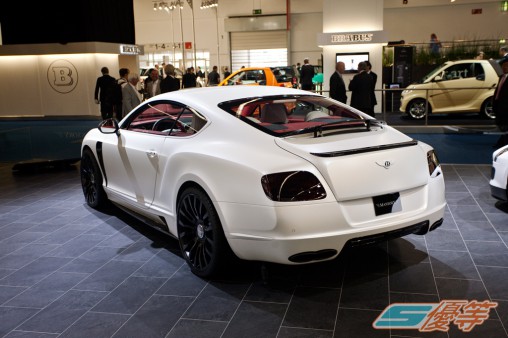 (The exception (!?) to the above statement is another tuner who has been around for a long time; Hamann. They do something some of us more fans of subtleness would call "boy racer" things to car costing well more then what we are used to. I found the toned rear lights quite out of place on this Bentley Continental GT and the wheels are borderline tacky as well. Still giving credit to that they have not cheated in quality anywhere and Iam sure its a matter of taste as well…)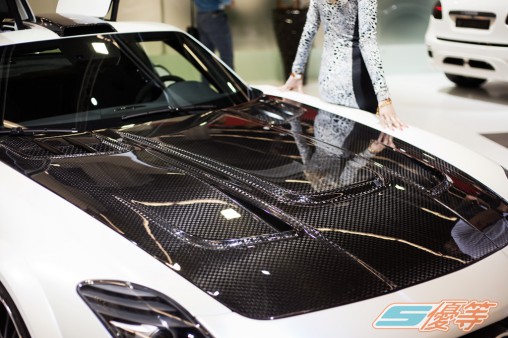 (More from Hamann and interesting to see this type of carbon with larger "squares" in the weave. In Sweden we call it Textreme and we have actually in MajoR Aero done some work with it. Quite expensive and hard to work with, but more unique then regular carbon- and thats what people want to pay for when it comes to spending money on their supercar?)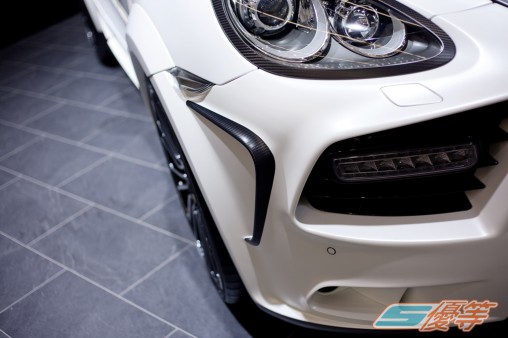 (Front "canards" have suddenly become all the rage here; wheter its from factory supercars or what these premium tuners are offering their customers. I thought this design for the Porsche Cayenne by Mansory was pretty unique, although I have to figure out the aero functions behind it fully…)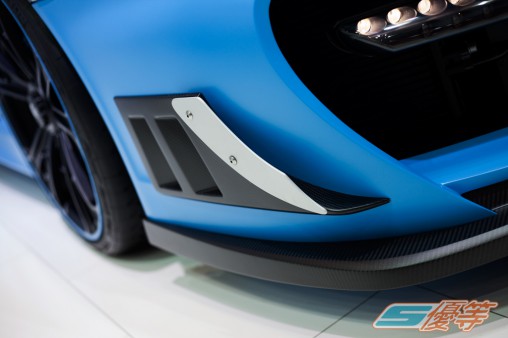 (Techart is a highly respected tuner who does more then just "style" their cars, its even more about the performance then perhaps some of the other brands in this gallry. This is a sick close-up of their "smurfy" Porsche GT2 RS that we liked so much we did a "100 SECONDS OF.." videoclip of. So enjoy these close-ups and expect that the feature will give you a more fuller experience of this awesome car!)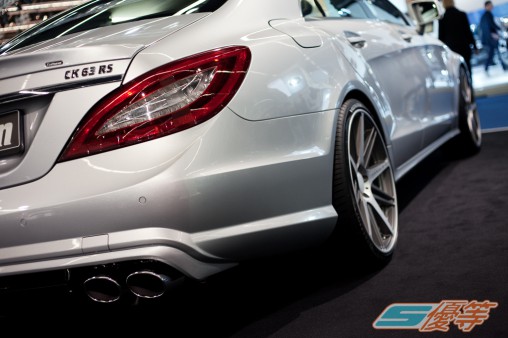 (Got stance? Already did mention that the Germans leave nothing to chance when it comes to taking this seriously. I would be tempted to lower it even more,but I doubt its cool to scrape the streets in your city cruiseing while driving your Carlsson CK63 RS…)
(One more shot of the highly favoured brand in this gallery (Mansory) and their insane Ferrari 458 Italia which was stuffed with more carbon then a epic mealtime turkey is with meat!)
Most of these cars are perfectly fine from factory, and we feel its 50/50 when it comes to taking advantage of that and just refining those lines- while the other half just goes nuts in trying to add any single detail which will give the car even more attention. Which route is the best to go in your opinion?
Todays "tuning-special" is all about spoiling you guys. Drop off a comment below if you like what you see, and be sure to check out MARTINS FACEBOOK as he has a habit of shooting supercars for a living as well. 😉

Instead of clogging up the news too much, you can use THIS POST (BOOKMARK!) continually updated with all the latest links to the other "100 seconds of…" video-clips we did at FRANKFURT IAA 2011 MOTOR SHOW!
***22/9 LATEST UPDATE: New Porsche 911 and Rolls-Royce Phantom Coupé added!***
Also CHECK OUR FACEBOOK (CLICK!) to get even more info anytime we release something new. Sometimes the blog is updated several times a day, so a perfect way to know when it happens although there are always spontaneous surpries as well!
We have finally counted them all in, and the final number of features Team A (Martin Persson and "Mike") did at this expo is around 30…! We are proud to have accomplished this, two days at this place is normally what it takes just to learn where everything is located. But we did it, and David @ SUPERIOR MEDIA has done a fine job of quickly uploading them so we can publish them for you. Here we go:
——————–
Frankfurt IAA Auto Expo 2011 – 100 seconds of Rolls Royce Phantom Coupé from Superior Media on Vimeo.
Get more VIP then ever with this world premiere, a two-door coupé of the phenomenal Phantom model. Is Johnny English going to be a better movie with this car having a lead part…?
PORSCHE 911 NEW GENERATION 991 WORLD PREMIERED!
Frankfurt IAA Auto Expo 2011 – 100 seconds of Porsche 911 from Superior Media on Vimeo.
Dont have much to say about this one, another generation of Porsche- and we all get older. The design though is not, and its pretty sharp; but is it growing towards an "older" type of customer base? You decide…
ALFA ROMEO C4 CONCEPT WITH VERY HOT ITALIAN LADY!
Frankfurt IAA Auto Expo 2011 – 100 seconds of Alfa Romeo C4 from Superior Media on Vimeo.
We all know Alfa Romeo make beautiful cars, and we all know Frankfurt IAA is a real treat filled with beautiful women as well during the press days; but did we expect to be totally speechless about what they brought to the expo…? No, and I think it shows in the video as well.
DACIA DUSTER 850HP PIKES PEAK RACECAR!
Frankfurt IAA Auto Expo 2011 – 100 seconds of Dacia Duster Pikes Peak from Superior Media on Vimeo.
One of the positive surprises of the expo was that Dacia brought a car which could compete for the "highest HP" award. Athough far from its stock form, the "Duster" which is a 850HP racecar to climb mountains like Pikes Peak, was a mean sight to behold.
SAAB IS NOT OUT OF BUSINESS, OR ARE THEY…?!?
Frankfurt IAA Auto Expo 2011 – 100 seconds of Saab from Superior Media on Vimeo.
They were supposed to be there, but after carefully studying our little map of the expo and looking around… Well, this is just confusing and should not be taken seriously. No Victor Muller on site!
FERRARI 458 SPIDER HARDTOP WORLD PREMIERED!
Frankfurt IAA Auto Expo 2011 – 100 seconds of Ferrari 458 Spider from Superior Media on Vimeo.
As expected, nothing was more of a pain in the ass then to get clear acces to the worlds most (deservedly) posh brand Ferrari. Since we are going to do a special about it later this fall, we honestly didnt try harder then this; but if you are a fan of the prancing horse then check out the clip anyway!
BENTLEY CONTINENTAL GTC WORLD PREMIERED!
Frankfurt IAA Auto Expo 2011 – 100 seconds of Bentley Continental GTC from Superior Media on Vimeo.
Another splendid convertible making its world premiere and making rich peoples lives even more difficult; "which one should I buy?!". Oh the poor things, well all we can say which makes logical sense is that the new GTC is one of our favourites if its all about arriving in style and cruising around!
Frankfurt IAA Auto Expo 2011 – 100 seconds of Aston Martin from Superior Media on Vimeo.
You know you will never ever be dissapointed looking at the perfection which is Aston Martin, but imagine seeing their brand new Italian-influenced Zagato concept and right away skipping over to their supercar the One-77? Well, thats what this clip has to offer so take a look…
MERCEDES LUXURY CONCEPT AND MAIN EVENT HEADLINER!
Frankfurt IAA Auto Expo 2011 – 100 seconds of Mercedes Luxury Concept from Superior Media on Vimeo.
If you liked the almost rude in eye-catching capabilities Cadillac concept, you will equally love what the German giant Mercedes brought with them to the expo. This Luxury concept oozes of science-fiction futuristic vibes and I doubt there is anyone that could match it in being 100% fabolous- not even Lady Gaga!
Frankfurt IAA Auto Expo 2011 – 100 seconds of Cadillac Ciel from Superior Media on Vimeo.
Another personal favourite now that we've had time to evaluate things, and I think the video made the concept some justice too- not going to win any awards for pure design… but as a concept and to demo what the Cadillac brand is all about; surely a winner!
HONDA CIVIC NEW GENERATION 2012!
Frankfurt IAA Auto Expo 2011 – 100 seconds of Honda Civic from Superior Media on Vimeo.
A car they called "ahead two generations" has a lot of hype to live up to, and we were not too impressed although we found some positive things to say about the front end of it. But could have been something "more" right?
Frankfurt IAA Auto Expo 2011 – 100 seconds of BMW M5 from Superior Media on Vimeo.
The brand new BMW M5 with its twin-turbo V8 engine did not dissapoint at all, in a way its more aggresive then ever- but still keeping us confused on how good they are still making it look so "understated". Check out the mental malfunction of combining Swedish with English to say " B M W " as well. 😉
LAMBORGHINI (AVENTADOR x2, GALLARDO SUPERTROFEO STRADALE & MORE!)
Frankfurt IAA Auto Expo 2011 – 100 seconds of Lamborghini from Superior Media on Vimeo.
Lamborghini was as expected quite a "top dog" with their presence at Frankfurt, not is size; but in sheer candy for the visual sense. Make sure not to miss their special "Lamborghini gridgirls" which this clip did capture some goodness of as well..
Frankfurt IAA Auto Expo 2011 – 100 seconds of Mercedes SLS AMG Roadster from Superior Media on Vimeo.
A very anticipated car and of the "german giants" biggest releases at the expo. A car that is firmly sold with ephasis on the "gull-wing" doors has lost them, and some unique for Mercedes misses in 100% quality. Strange?
Frankfurt IAA Auto Expo 2011 – 100 seconds of Audi R8 GT Spyder from Superior Media on Vimeo.
One of my favorite cars now that the expo has kind of sunk in. Made some valid points on how added carbon goodness and all the other aggresive details finally made the R8 the supercar Audi wants to promote it as. You also get to see some of he interior of the very impressive hall they had built from scratch!
TOYOTA FT-86 CONCEPT FINAL (?) VERSION!
Frankfurt IAA Auto Expo 2011 – 100 seconds with Toyota FT-86 concept from Superior Media on Vimeo.
For all us big JDM-fans out there, this car had the most relevance to it as its almost being seen as a "messiah" to rejuvinate our part of the car-world. Seeing it in person, lots of Lexus LFA but some remarks on the wheels and rear spoiler.
——————–
We appreciate you sharing THIS BLOGPOST LINK as much as you feel like, and make sure to LIKE OUR FACEBOOK like mentioned to stay tuned with everything else we do here at Superior!

This clip eventhough we had to superrush it and squeezing with a ton of other TV-teams, shows a quick glimpse of the Mercedes SLS AMG Roadster having just been world premiered at FRANKFURT IAA 2011 MOTOR SHOW!
We did a lot of these "100 seconds of…" features, and some were more obviously improvised then others- but we felt this car and the unusual lack of some finishing touches made it worth posting. If you didnt like this particular one, no shame in admitting so in the comments below!
VIMEO:
Frankfurt IAA Auto Expo 2011 – 100 seconds with Mercedes SLS AMG Roadster from Superior Media on Vimeo.
YOUTUBE:
httpv://www.youtube.com/watch?v=W11JFNTUp4c
We made it a little thin red line to follow to show you some of the premium convertibles coming out very soon, and the importance of the Mercedes SLS AMG Roadster I guess forgives the journalistic quality of this clip. Hope you find something useful, and if not- 100 seconds is not too much time to waste! 😉
Still doing a ton of work going through everything we did down in Germany, but getting more and more organized = insane amount of stuff coming out soon…
Dont forget to comment below!