Two more smaller cars that from the one we talked about previously today, are for a more "hipper" crowd perhaps: Mini Cooper "Coupé" and the almighty world premiered VW Beetle.
We had to make sure to talk a bit about "normal" cars as well since they make up a huge part of the FRANKFURT IAA 2011 EXPO. I think these two videos turned out better then i remembered them, actually the Mini Cooper one doesnt make much sense- but is still good for seeing more about this new model.
Funny though. With the VW Beetle I seem a bit… rejuvinated or something? Maybe afterall Iam a closet huge Beetle-freak? See the videos and judge by yourself! 😉
VIMEO:
Frankfurt IAA Auto Expo 2011 – 100 seconds of Volkswagen Beetle from Superior Media on Vimeo.
Frankfurt IAA Auto Expo 2011 – 100 seconds of Mini John Cooper Works Coupé from Superior Media on Vimeo.
YOUTUBE:
httpv://www.youtube.com/watch?v=lJ1qpMpYpBs
httpv://www.youtube.com/watch?v=dMifuJdIVHI
So if you were being forced by your girlfriend (?!) to buy another small car for the house, would any of these two do- or would the Suzuki Swift Sport or Hyundai i30 (new one) be your choice?
Only a handful of clips remaining and we will make a big deal out of it when we are finished, be sure to check them ALL OUT HERE to either make fun of me or just enjoy all the cars from Frankfurt IAA! 🙂
Got more "normal" cars for you here on the final part of the "100 SECONDS OF…" SERIES but for most of us, its still of interest since we could very well end up in either a Suzuki Swift Sport or new Hyundai i30 someday. And thats not a "sad" thing either, most new cars these days are solid and well designed- these two are no exception… We've been following the Swift for a few months now and were in high anticipation of the Sport model. When it comes to the Hyundai i30, its deemed as a car that will give big rumbles in this segment- and our lack of motivation to cover it proved wrong = its a damn nice car! VIMEO: Frankfurt IAA Auto Expo 2011 – 100 seconds of Suzuki Swift Sport from Superior Media on Vimeo. Frankfurt IAA Auto Expo 2011 – 100 seconds of Hyundai I30 from Superior Media on Vimeo. YOUTUBE: httpv://www.youtube.com/watch?v=FnKHo4HvgOI httpv://www.youtube.com/watch?v=NeC7WrvRUQ4 So which one is the winner based on this short and confused first insight? I would think its a close draw, but naturally the Swift has a firm advantage since the basemodel is such a great car to drive = can only get better with more HP and gearbox. The Hyundai is still doing its job, for
the first time I can consider testdriving one; thats coming a long way for them… 😉 See all the CLIPS HERE and we are putting an end to this series early this week. Then we'll do some fun stuff to encourage feedback from ya'll. Hope you like some of the CLIPS you've seen!
Feels like we are lost in how many unique and really sharp concepts we've seen from FRANKFURT IAA 2011, and I believe its been half a dozen times of "this could be
one of our favourites at…" proclamations- but the Ford EVOS concept sure is a Top 5 car without a doubt. Thing that really struck us hard was that it felt very… comfortable and harmonic despite being a haute couture kind of car. Everything from the paint, wheels, lights, doors and going on felt… perfect! Just watch the video and see if you agree? VIMEO: Frankfurt IAA Auto Expo 2011 – 100 seconds of Ford Evo Concept from Superior Media on Vimeo. YOUTUBE: httpv://www.youtube.com/watch?v=dc7LPwwa4gA Dont be shy with your own opinions, we value them and would like us to join OUR FACEBOOK to do so as well! Make sure to chill out with plenty of similar videoclips from Frankfurt AT THIS LINK!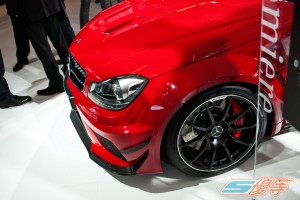 One more "100 seconds of…" video (SEE THEM ALL HERE) for you to enjoy from FRANKFURT IAA 2011 with the Mercedes C63 AMG "Black Series". This concludes our saturday which had a bit of a "tuning special" to it, but we have a lot more from this segment of the expo as well…
Seeing this video, I think its one of the best ones and was done early in day one with plenty of focus and on a car we both (me and photographer Martin) liked a lot.
Wish all the clips could have been like this, giving you plenty of details and a fun fact or two- but generally I stand by that all we are doing is to "scratch the surface" for all of you and the clips do that well!
VIMEO:
Frankfurt IAA Auto Expo 2011 – 100 seconds of Mercedes C63 AMG Black Series from Superior Media on Vimeo.
YOUTUBE:
httpv://www.youtube.com/watch?v=Cn6_4f9y0uI
You could use both hands and your feet to try and account for how many "must have" cars we found at the expo, but being a bit balanced I feel this is one bad motherf*cker that would not only own a lot of cars in appearace- but most certainly in performance firsthand as well…
That concludes todays efforts to get all the material from FRANKFURT IAA of our hands and into yours. I think we're about 75% on the road here until its all out, so keep enjoying the ride! 🙂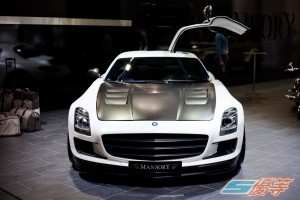 Sinking our teeth into Hall 5 at the FRANKFURT IAA 2011 EXPO we got all the über-premium tuners under one roof with brands like Mansory, Brabus, Carlsson, Weissman, Techart, Hamann and more & more…!
We were not as enchanted as our GUEST BLOGGER SIR PIERRE, but did return more then once to get a closer look on some cars. Its with some regret I did not give even more time to these astounding supercars who have gotten and even sharper edge to them with labour of the absolutely highest degree.
There will be another write-up by Pierre who is much more familiar with these big dogs of the aftermarket $$$-sccene; but right now Martin BILBILDER.SE Perssons pictures will give you more SELECTED GALLERY wisdom to entertain your eyes with…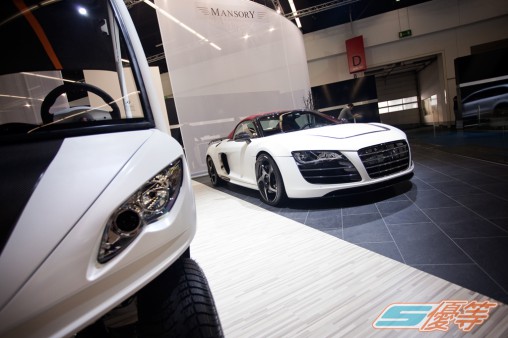 (English exterior tuner MANSORY brought their A-game to the expo and had probably the second largest presence in Hall 5 after Brabus. They had a themed matte white/carbon thing going and you had supercars from around the world to look at. What you see here is not just an Audi R8 but a custom Golf cart (!) as well, moral of this story is that a certain Horacio Pagani was eyeing it live in front of me while I was there. Hmm?)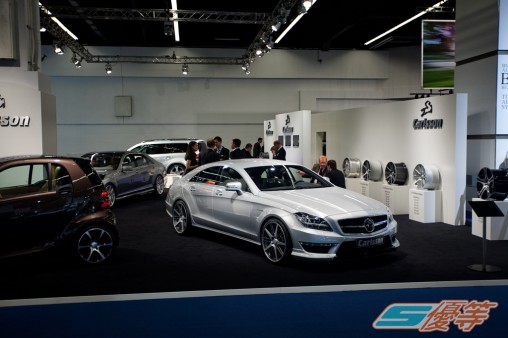 (Carlsson has been tuning Mercedes forever it seems, and they put a lot of focus on their own wheel collection which I found very appealing. If its one thing the Germans be it ultra-premium tuners like these guys know; its how to keep it simple and classy when it comes to wheels.)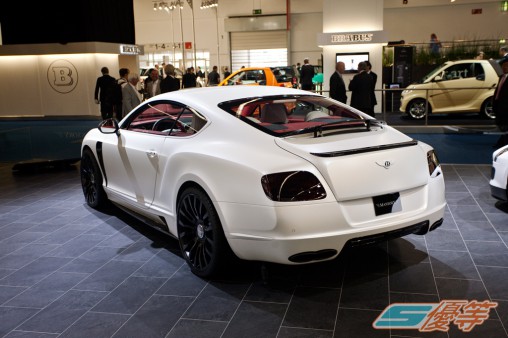 (The exception (!?) to the above statement is another tuner who has been around for a long time; Hamann. They do something some of us more fans of subtleness would call "boy racer" things to car costing well more then what we are used to. I found the toned rear lights quite out of place on this Bentley Continental GT and the wheels are borderline tacky as well. Still giving credit to that they have not cheated in quality anywhere and Iam sure its a matter of taste as well…)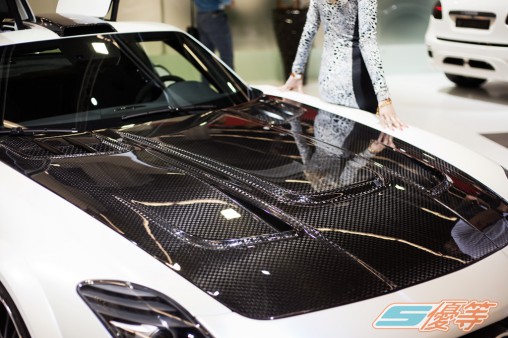 (More from Hamann and interesting to see this type of carbon with larger "squares" in the weave. In Sweden we call it Textreme and we have actually in MajoR Aero done some work with it. Quite expensive and hard to work with, but more unique then regular carbon- and thats what people want to pay for when it comes to spending money on their supercar?)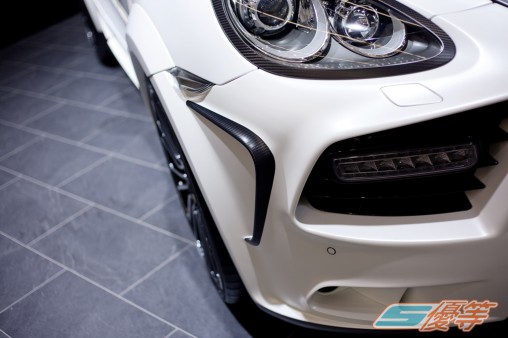 (Front "canards" have suddenly become all the rage here; wheter its from factory supercars or what these premium tuners are offering their customers. I thought this design for the Porsche Cayenne by Mansory was pretty unique, although I have to figure out the aero functions behind it fully…)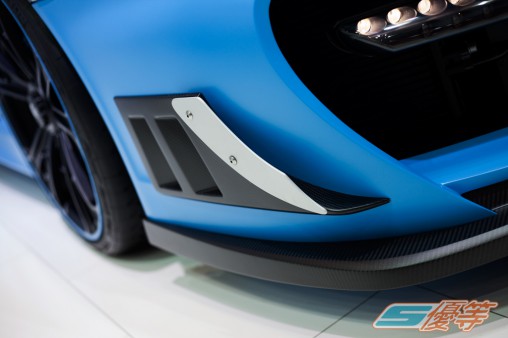 (Techart is a highly respected tuner who does more then just "style" their cars, its even more about the performance then perhaps some of the other brands in this gallry. This is a sick close-up of their "smurfy" Porsche GT2 RS that we liked so much we did a "100 SECONDS OF.." videoclip of. So enjoy these close-ups and expect that the feature will give you a more fuller experience of this awesome car!)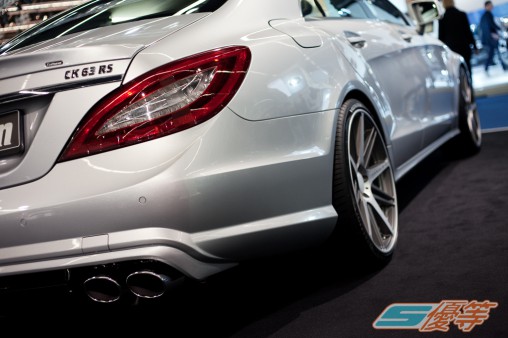 (Got stance? Already did mention that the Germans leave nothing to chance when it comes to taking this seriously. I would be tempted to lower it even more,but I doubt its cool to scrape the streets in your city cruiseing while driving your Carlsson CK63 RS…)
(One more shot of the highly favoured brand in this gallery (Mansory) and their insane Ferrari 458 Italia which was stuffed with more carbon then a epic mealtime turkey is with meat!)
Most of these cars are perfectly fine from factory, and we feel its 50/50 when it comes to taking advantage of that and just refining those lines- while the other half just goes nuts in trying to add any single detail which will give the car even more attention. Which route is the best to go in your opinion?
Todays "tuning-special" is all about spoiling you guys. Drop off a comment below if you like what you see, and be sure to check out MARTINS FACEBOOK as he has a habit of shooting supercars for a living as well. 😉
When I mentioned that the DACIA DUSTER had 850HP it was probably among the most powerful cars of the expo. Well, here is another one with German tuner Brabus showing their CLS Rocket 800 which has… yes indeed, 800 ponies and torque well enough for a proper truck under the hood!
The entire Halle 5 was dedicated to the different tuners of the world (mostly German = The elite) and we will share a SELECTED GALLERY (teaser below) with you from that as well as some expertise blogging from SIR_PIERRE. Its just tuning at another planet then we are used to, although there was a lot of common ground to find with a technical manager of Brabus who said it was the same trial and error as with building any other tuned car.
Gotto add that they were utter class at Brabus, and the best honest complement I could give them is still valid: In a hall which has a dozen tuners with plenty of $$$ client cars in their disposal they were the biggest and best with ease. Their closest competitor Carlsson had nothing on them- and thats a fact and not an opinion.
Keep up the good work Brabus, and make sure to watch this video showing the classiest snob with a total meanstreak around. Some quite interesting facts like its 0 – 300km/h time is brought up. Can you guess it before watching the video? 🙂
VIMEO:
Frankfurt IAA Auto Expo 2011 – 100 seconds of Brabus from Superior Media on Vimeo.
`
YOUTUBE:
httpv://www.youtube.com/watch?v=WIk9jHYzTn4
Cant imagine riding in more class then that, but still feeling confident in what I got as soon as I give it a little push on th gas-pedal anytime a factory supercar rolls up next to me in the autobahn… 😉
See ALL THE CLIPS from the FRANKFURT EXPO 2011 and drop a comment or two, we really appreciate it!
In the shadow of the two giants BMW and Mercedes we have the always ambitious VW brand Audi doing their best to keep up. They had setup their own built from scratch call in the middle of the whole expo landscape, and offered a cool design with car being testrun "around us inside" (hard to explain).
Among the news this year were a bunch of new S-models and facelifts of their normal car, also the top of the line Audi R8 GT Spyder. We liked their thinking and probably got their deserved attention for their efforts, this gallery represents a bit of the flair…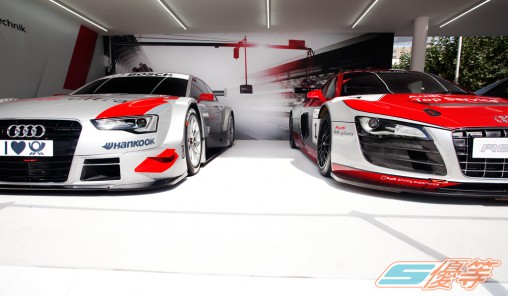 (With a bit of a compromise, at least Audi did bring some of their racing livery to the expo. But they did not get a seat inside the fancy built from scratch building, instead they stood in their loneliness outside a bit scuffed away. Still giving them props for showing them, the Audi A5 DTM is new for this upcoming season…)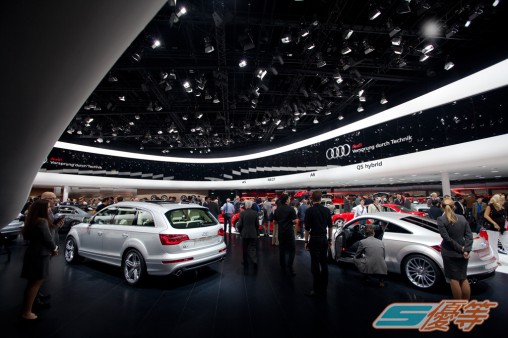 (Here is a great shot of how it looked inside, as always with this borderline pretentious brand- we got a lot of "piano white/black" surfaces and nice tinted glasses. From this angle you dont see that there was a very small track built "around" the structure where cars passed by from time to time. The TT-RS and GT Spyder made some nice noise sometimes…)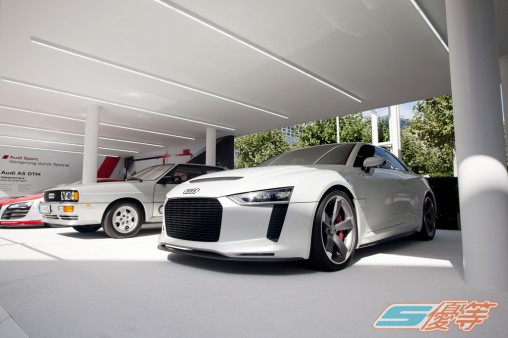 (A concept I myself was looking forward to seeing was this new Quattro which is a revival of the 80's where Audi as we all know ran Group B and such. Sadly it seems this wont get much further then being pushed out in the open next to the "priority B" racecars. Good or bad idea by Audi to scrap it from production?)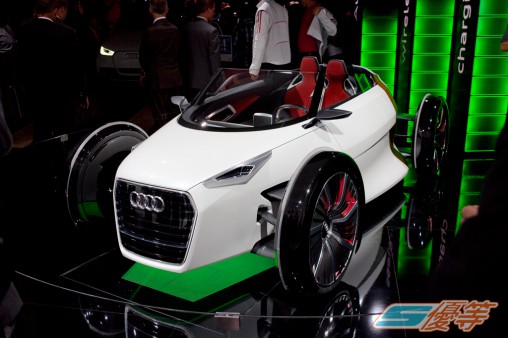 (Another concept that is aimed towards really compact cars with attitude to roam the city with. Martin got quite attached to it on location, I just get colds shivers down my spine thinking about fitting in such a car- the future seems like a rough place for guys like me who are aroun 2m tall…)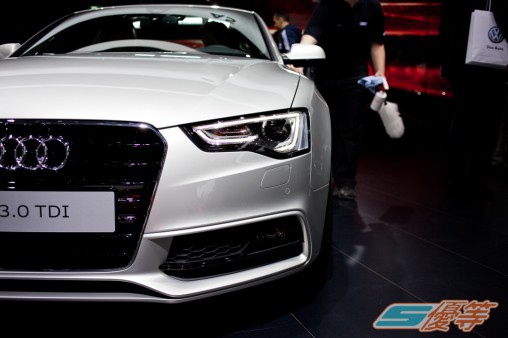 (The oh so popular Audi A5 got its facelift and even sharper lines seems to be the melody of current trends at the moment. I have a soft spot for the A5, but being totally honest here; its because its like a "poor mans Aston Martin" or something like that.)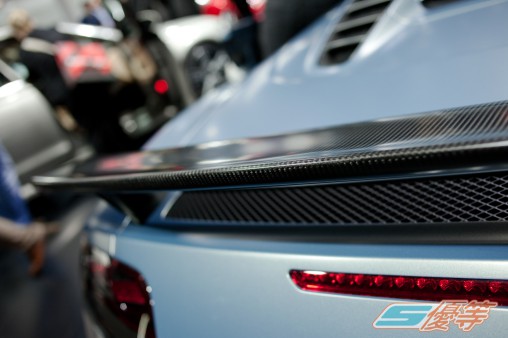 (In the "100 SECONDS OF AUDI R8 GT SPYDER" VIDEO we did point out that the class of carbonfibre was among the highest of the entire expo on Audis cars. Just an amazing mix of perfect weave with the right balance of clear coat to set it off totally. Surely it was among the cars that gave the most "want one" cravings looking back…)
And thats Audi for ya, I think there is a pic somewhere on how the structure looked from the outside. Martin said in some naughty fashion it looked like a giant pile of whale-crap  dressed up in fance white or something like that??
This gigantic expo is killing me, never realised that two days could give so much to write about. And we still skipped over around half of what was shown there since it only gave a mild rise of the pulse passing it by… 

Still keeping the tempo up on all the "100 seconds of…" clips we did at FRANKFURT IAA 2011 expo, and next in line is the magnificent Rolls-Royce Phantom Coupé– possibly the biggest in sheer size world premiere shown at the expo!
Would have been fun to get a glimpse of Rowan Atkinson aka "Mr. Bean" aka "Johnny English" who was present during the pressrelease of the car (its featured in the new JE movie) but aparently it was quite stale.
Not sure what I would call my own performance being a prick about Rowan, but as always its more about giving a quick glimpse of the many spectacular cars we ran through down there (and he is a multi-million $ per movie actor, while Iam…)… Lets not finish that!
VIMEO:
Frankfurt IAA Auto Expo 2011 – 100 seconds of Rolls Royce Phantom Coupé from Superior Media on Vimeo.
YOUTUBE:
httpv://www.youtube.com/watch?v=ToLZpNlO_qg
We've seen everything from exotic concepts, to standard cars getting their world premieres to some true supercars. I hope you like the mix so far, find ALL THE CLIPS HERE and browse around to find your favourite, and if you must- give me a good healthy dose of heckling as well since at times Iam… terrible. 😉
Friday coming up here and have some catching up to do on the office, but more SELECTED galleries from both Gatebil Rudskogen and FRANKFURT IAA will come your way…!
We all know we are getting older each time Porsche release a new generation of their 48 year old long standing classic 911. At FRANKFURT IAA EXPO we got to see the newest one dubbed 991. They are taking a step away (?) here from sportiness and have done it a bit longer and sleeker in look, do we like it…?
I would say yes, but perhaps its a little questionmark wheter the car is loosing more of its youthfullness and being even more geared towards a mature audience? Not sure, check out the video and give us your own opinion?
VIMEO:
Frankfurt IAA Auto Expo 2011 – 100 seconds of Porsche 911 from Superior Media on Vimeo.
YOUTUBE:
httpv://www.youtube.com/watch?v=7J4IILOIl9s
Looking at it again it really does look modernized and more of a gentlemans car rather then a sportscar but… Iam sure the more performance oriented RS-models will cure that quite easily once its their time to hit the market…
Always have to mention we got all the "100 seconds of…" clips stashed nicely HERE if you got a few minutes to kill listening to my hesitant english; but looking at all the fantastic cars most importantly.
Dont forget all the awesome SELECTED GALLERIES with plenty of blog texts to enjoy! Do it! 😉
Two quick mentions of cars that made some impact at FRANKFURT IAA EXPO 2011, the Cadillac Ciel and Ford Evos concept- showing that there is an even playingfield and the americans are far from behind when it comes to the thinking for the future.
We already did the "100 SECONDS OF…" VIDEO of the Ciel and we also got the Ford Evos coming, both do sooo well in live media then i pictures; but this mini-gallery by Martin BILBILDER.SE Persson is still good enough for a minute of your time. 🙂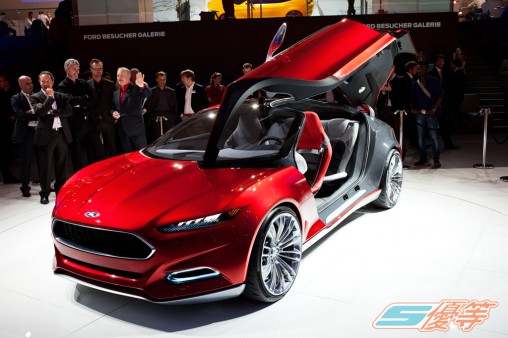 (Ford has been doing well in recent years, but never achieved anything thats considered "spicy" enough for more hardcore enthusiasts as ourselves to sink our teeth in. I still consider this concept a very clean rather then wild one at first glance, but looking closer you got a lot of things to enjoy in every aspect of it. Can we say it could be one of the most balanced and in a whole most "well made" concepts of the expo?)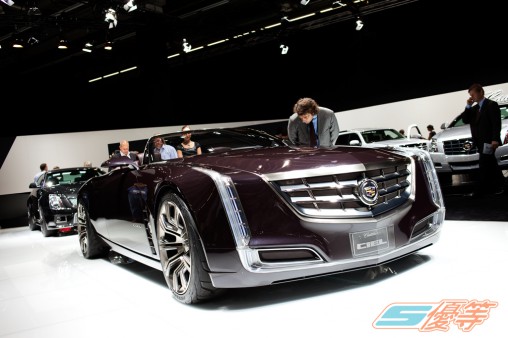 (Call me a nerd here, but I think even more could have been achieved here with an even more agressive sort of stance of the wheels. Iam not talking about doing a proper "Hellaflush" look, but the Ciel has every single bit of potential needed to be the absolute overlord of all VIP-cars if it really wanted. How are you guys feeling the colour BTW?)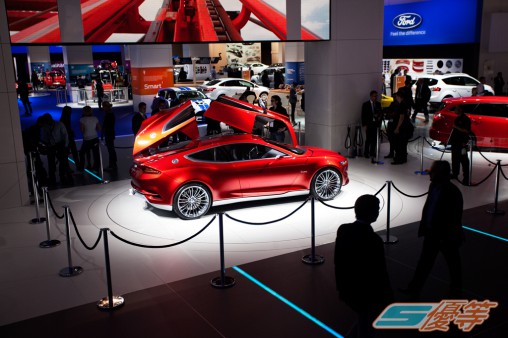 (I cant confirm this, but could it be the worlds first "dual gull-wing" doors ever…? And the fact that such a ridiculous and unnecessary idea is pulled of in 100% fashion is… ace work by the design team! Gotto love those wheels which could also compete for the "best of" in that category at the expo, and lets also mention the colour which was one of the more vibrant candy/pearl paintjobs I have ever seen in my life!)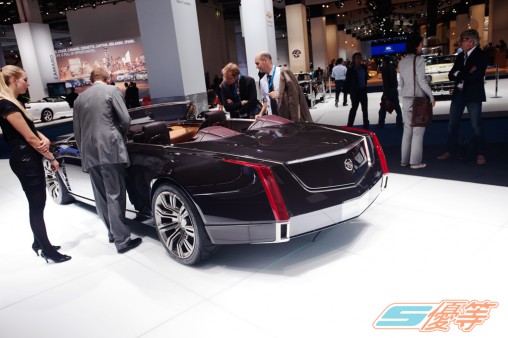 (And the highlight of the car with a former dreamcar of mine *in MUCH younger days* giving inspiration to the rear of the Ciel —> Cadillac Eldorado. It never crossed my mind that this colossus was actually a true convertible, which is quite exclusive for any concept. So much retro going on though, everything from the brown/reddish interior to the "controlled vulgarity" of this car takes back fond memories of the 50-60's…)
This was just a quicke,  but we did say that no corner of the FRANKFURT MOTOR SHOW would be left unturned by us. Right…?
…no, we actually didnt say that but still hope you like the variation of cars we've offered you so far. Think we are two thirds down the road in released material = much more to come! 😎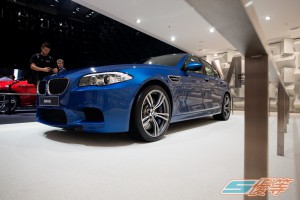 Solidifying the Top 2 brands at FRANKFURT IAA 2011 MOTORSHOW is BMW who didn't have the same amount of news as Mercedes, but their new generation M5 F10 (see VIDEOCLIP HERE) was still a big draw we had talked about before the expo started.
Since it just happened to be so, we attended their press-release first thing and were totally blown away by the size of media/HiFi equipment used in their presentation.
Sound was crisper then any home cinema I have ever enjoyed, and seeing the cars rolling on the almost velodrome like surface was cool as sh*t to be honest!
They would later be trumfed by Mercedes (in my opinion) but getting into the Top 2 when there are still big brands like VW and Audi among others to compete with… well not bad at all. Hee we go, as usual its maestro Martin "BILBILDER.SE" Persson who has done the photographing: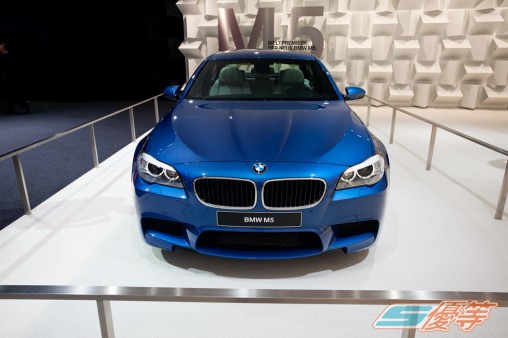 (And here he is, the meanest but still "squarest" guy in town! Picture a Clark Kent without his glasses and innocent look, doing what his Superman alter ego does best- kick ass! We were truly raving about the front end of the car which had me thinking some toned down Ferrari F430 Scuderia design. Everything including the engine which is a Twin-turbo V8 makes perfect sense on this car…)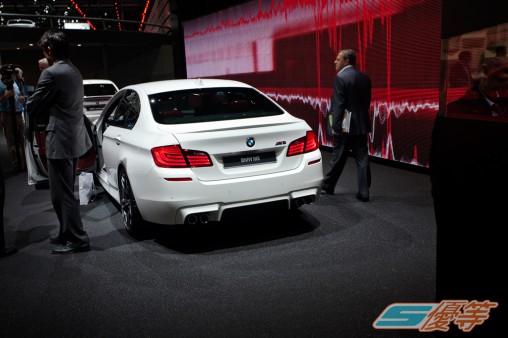 (…and a shot from the rear, this time in even more innocent white colour. Perhaps they went a little too subtle with it, and its possible the only part of the car I would "dress up" with something more agressive. Got any ideas?)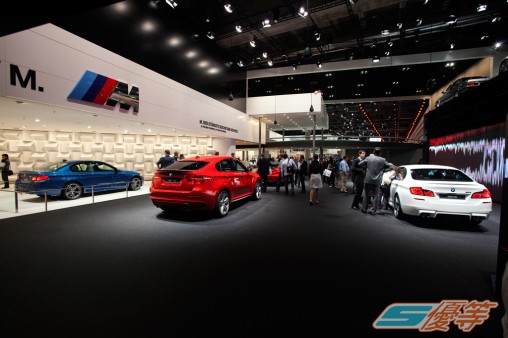 (The catchphrase is "The most powerful letter" or something to that extent, but M has become more then their top of the line performance beast; and more about offering for example bodykits from factory to your regular model. Doubt this is news for ya'll as there has always been "M-packages" available, but they seem to market it more openly apart from their M3/M5 etc now. Will it water down its true status…?)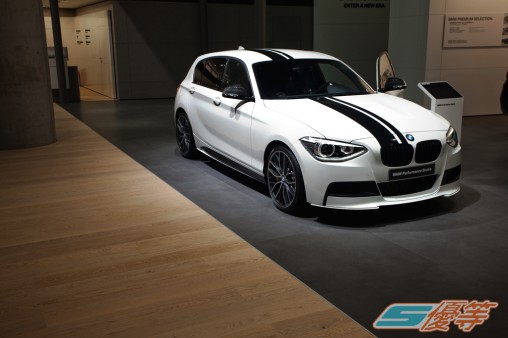 (Even the standard 1-series has its own M-package now and it sure does give it a nice "little package of dynamite" sort of look, doesn't it? Apparently Martin had a friend who had a real 1M coming his way soon, so you could feel the good-hearted jelousy right there. This aint it, but could be better on a budget? Still feel its more of a "car for the girlfriend" kind of model, hate me all ya want!)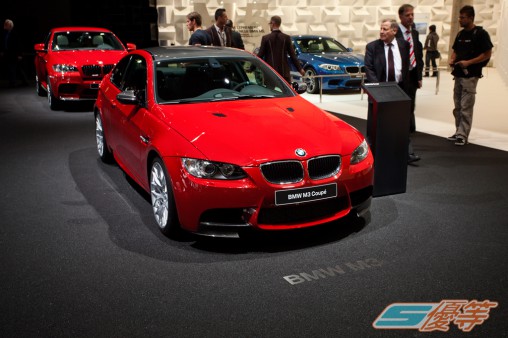 (Nothing new on the BMW M3 front, but Martin insisted that its a damn shame so few dare to try the classic red colour on this sleek machine? Perhaps its more common practice to use something more "conservative" just like the stale and correct Germans would like it; but I do agree the car does look bad-ass apart from the silver wheels which need to go gun-metal or flat black now!)
Maybe not that fair of a gallery to show how big their presence was, but I can honestly say its much clearer on how much bigger and more news-filled Mercedes was. You have to remember that they sort of semi-shared their stall with Mini Cooper and Rolls-Royce as well…
Finally getting somewhere is trying to recap the FRANKFURT IAA EXPO this year around, all these SUPERIOR SELECTED galleries give a decent look of it anyway- and then you got the "100 seconds of.." HERE to give you a glimpse of each car as well.
We could blog all year around if we gave everything a deeper look, but hope you like that we keep it in a "bloggy" entertaining way instead… 🙂
Here is a bit of a surprise, when we saw that Dacia were on location we… didn't care at all! But looking closer, we saw a car which made us change our opinion- Dacia Duster! Funny that the least sporty brand on FRANKFURT MOTORSHOW 2011 still brought one of the meanest racecars?
This thing is as you can guess a Pikes Peak racecar, and with its 850HP coming from the Nissan GT-R engine it gives me the same feeling as that Suzuki Swift did in some random videogame a few years or so back?!
VIMEO:
Frankfurt IAA Auto Expo 2011 – 100 seconds of Dacia Duster Pikes Peak from Superior Media on Vimeo.
YOUTUBE:
httpv://www.youtube.com/watch?v=VOM8gNEjMiE
Bit of a sleeper for the "car I would like to drive" award at Frankfurt, but if the occasion would come I would probably be far too scared getting into this small monster. We all know the old Gruppe B drivers had to take a lot of pills sometimes to manage their fears and block adrenaline racing their beast so… maybe not a wise move for an amature driver like me!
The Frankfurt-frenzy continues today with more "100 seconds of…" clips and plenty of SUPERIOR SELECTED top quality galleries. Hope your enjoying the show so far…
Time to drop some heavy heavy loads of pics here with the german giants Mercedes and later today BMW showing us how the elite do it at FRANKFURT IAA 2011 MOTORSHOW!
I'll let my opinions stand in the blog-texts on which one I thought was the biggest or best (same thing?), but assure you Martin BILBILDER.SE Perssons pictures will let you form your own opinion; and we would love to hear about it in the comments below! 🙂
(No, this is not a toy car and quite more serious at that. Its actually a concept Mercedes are doing to build the first real "emission free supercar", and in the shape of the SLS AMG E-cell they are well on their way! Not going to give you too much technical data on it, but the colour called AMG Lumilectric magno was almost tough to look at without sunglasses! While Martin thought it was there to lure flies and insects away from the rest of the stand; I gave this the "markes pen/car" award of the year. Quite unique but… do you like it?!)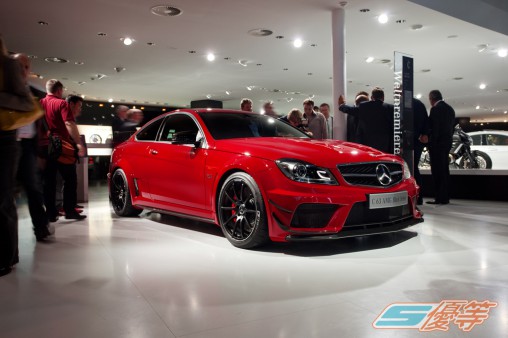 (Here is our favourite and a reason we went back several times, the Mercedes CLK63 AMG Black Series. Seeing how its even more agressive then its pre-release with a bunch of carbon goodies you would expect on a Time Attack car only, it was for sure something that caught our eye. Thinking about it, even the wheels got a lot of "JDM Time Attack" shape on them. Hope the upcoming "100 SECONDS OF…" VIDEO will make this truly evil car justice!)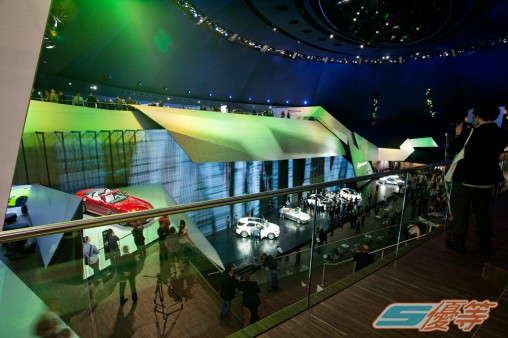 (Evidence #1: The Mercedes stall at Frankfurt was three stories high and had the most advanced (humongous) LED-screen we had ever seen. It actually had several dimensions in it, which is hard to explain- but putting a car sandwiched between them could make an animation that made it look like it was driving in standstill. Only thing we didnt like was that the view of the main stage was quite poor during their press-conference. But other then that, I think both me and Martin agree Mercedes took the prize of most impressive presence overall in Frankfurt 2011!)
(Breaking news: Superior Blog has boobies uncandidly in it! Iam sure you would hope for something different though, as in some weird German sense of humour way, they had several trucks outside their hall with gentlemen like this guy. Pretty weird if you ask me, but a smash hit with visitors who wanted to take their pictures with them all day long. Maybe the "man-boob" look is whats hot in this day and age?)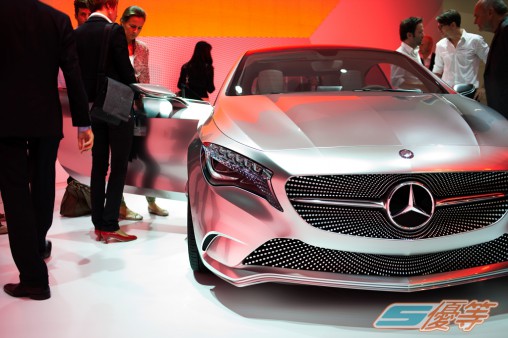 (Ok, back to the cars and news Mercedes had rather then silly gimmicks. This is the A-klasse concept and it was really sharp and took us by storm! Lots of details we totally fell for, and you bet that there is a "100 secons of…" clip coming of it as well. Doesn't seem very realistic to ever see something like this in production, but Mercedes proves they are well ahead of time in sharp designing IMO…)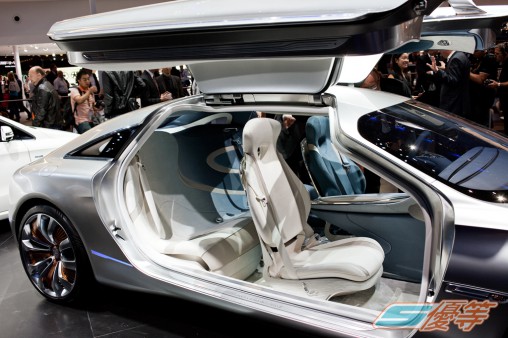 (One more concept, which seemed far more dear to "ze germans" around it with plenty of security and constantly being covered by TV-teams. This pic might not show it in all its glory, but "holy huge gull-wing doors Batman" indeed?! As we said in the VIDEOCLIP of this concept, its probably Lady Gagas choice of a future car but still maintaining that "majestic" Mercedes look as well.)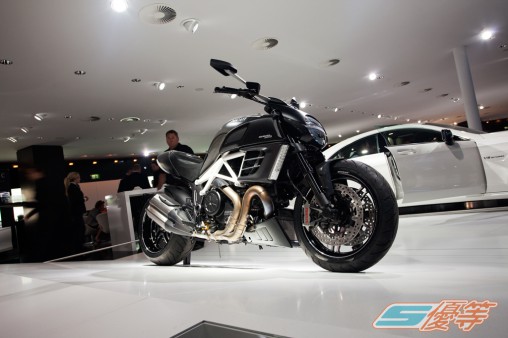 (And to finish it we got a… motorbike?? Actually, when it comes to testosterone experts Ducati hooking up with the brilliant engineers of AMG we cant help ourselves giving it some attention. Looking at certain details you can tell that wheels and such have a lot of AMG design-blood in them, and the colour-scheme reminds me of a certain Cobra V12 we did a coverage on a while ago… anyone remember that?)
We really want to applaud Mercedes for bringing an immense number of news to the expo, really being outstanding in that sense. There were a whole lot of other world premieres and exciting stuff to watch here, and embarrasingly enough we missed some of them- but hope you like the gallery anyway!
We hate to repeat ourselves all the time, but if you got Facebook then make sure to add OURS and MARTINS to it for little details which Iam sure you will enjoy if you like the Superior-blog.
Later tonight we got Part 2 of the "big bad germans" with BMW showing what they had to compete with vs Mercedes…

Following up our ASTON MARTIN clip we got another British nobleman this time in its most summer-friendly mood; The Bentley Continental GTC that world premiered at FRANKFURT IAA MOTOR SHOW 2011!
Bentley seems to have found a secret forumula were these behemoths in size still look sleek, sporty and inviting for anyone to drive. Lots of love from us to the Crewe based automakers which I think have finally distinguished them totally from "big brother" Rolls-Royce!
VIMEO:
Frankfurt IAA Auto Expo 2011 – 100 seconds of Bentley Continental GTC from Superior Media on Vimeo.
YOUTUBE:
httpv://www.youtube.com/watch?v=RG8JP4OSVlI
I liked the result of this clip as it showed most the car in a good way, some of our clips leave some of that to wish for- but I guess shooting over 30 cars in less then two days makes it excuseable. Got another hot convertible that world premiered thats coming up shortly too in the Ferrari 458 Spyder!
Do you agree with that this GTC is certainly something you wouldn't mind "coming to a party in"?
I know there was a bunch of such dream cars, but this one get a high place on my personal wishlist for such occasion… 😉
We got another mixed one coming here, with some news from the United States of America bringing it with Corvette, new Ford Focus ST and new Jeep Grand Cherokee among others at the FRANKFURT 2011 IAA MOTORSHOW!
The general consceous between me and Martin BILBILDER.SE Persson who shot these, was that there honestly werent't much new on the western front of the world. But as with ze french we wanted to give a glimpse of them anyway. There were a few homeruns made afterall…?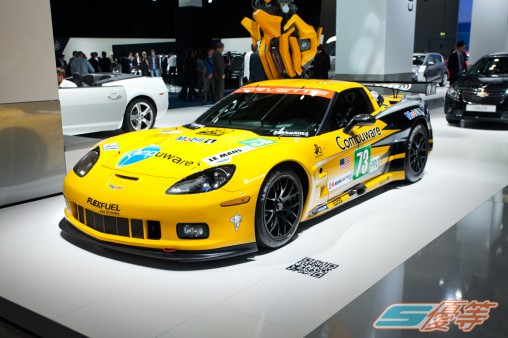 (I know ya'll clicked this after reading about Corvette, but sorry to dissapoint you- there is nothing new to share here while we await some more news about the next C7 generation of the worlds most (?) historic sportscar. They did bring a C6-R racecar and also their top dog from factory in the ZR-1… But thats like stated nothing new. Is a wild thought about Corvette doing more then one type of car too rad…?)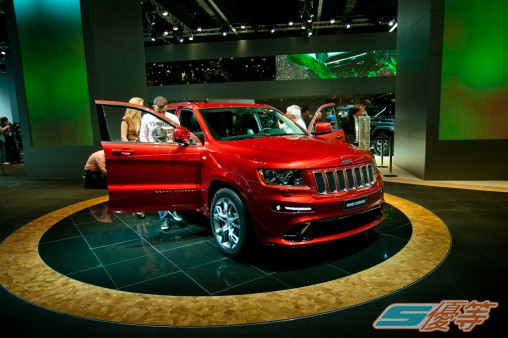 (Here is the new Jeep Grand Cherokee and guess what, its a damn nice car which has done a succesful jump to its next generation! How can you say anything else now that Maserati will base their upcoming SUV on this car? It was too bad Martin could not get a shot of the ladies that you could often see stand next to this car as they were pretty exotic… but this was a car-blog, right? Moving on!)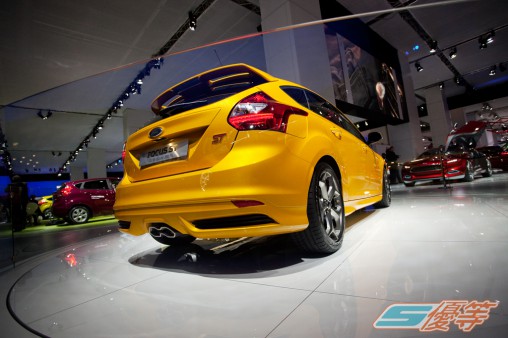 (Ford were pretty aggressive at the expo with several sportier models being showcased, among them this Focus ST which we hope will prove to be a good car to lure "newer generations" of tuning-freaks into the world. We've see what the Mazda 3 MPS has done, and Iam sure if this is anything near Fords final release for the ST it will be a huge succes…)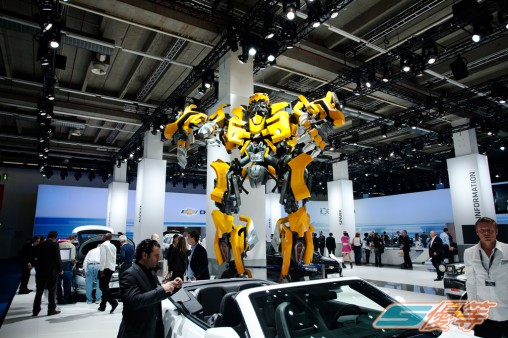 (No love for the Transformer named "Bumblebee"? He was according to Martin not getting much attention, and you could almost spot a robotic tear of diesel coming of his eye. Now honestly, lets not get silly- but perhaps its not a truly catchy idea to bring a giant robot to a car expo? Maybe the kids will love it during the normal day of the Motor show.)
Have to move on quickly from here, but keeping an eye out on all the GALLERIES WE'VE DONE SO FAR it seems like the winners at the moment are the British automakers in terms of interesting things to blog about? Looking at all the "100 SECONDS OF…" VIDEOCLIPS I tend to lean more towards the Italian ones. What do you like best so far?
The march continues, we know this is just a mad amount of posts coming out- but how about saving some for later if you feel its too much? As always very appreciative of your comments; bring it! 🙂
To say that french automakers like Peugeot, Renault and Citroën are rarely on a car enthusiasts radar is quite an understatement, but at FRANKFURT IAA 2011 MOTOR SHOW we did find a few rare gems that we felt deserved at least a small mention here in the blog.
Martin BILBILDER.SE Persson was particularly fascinated by the different concepts being shown, definately in the least something different for the eye to behold. We'll leave it up to you to judge if they are interesting or non!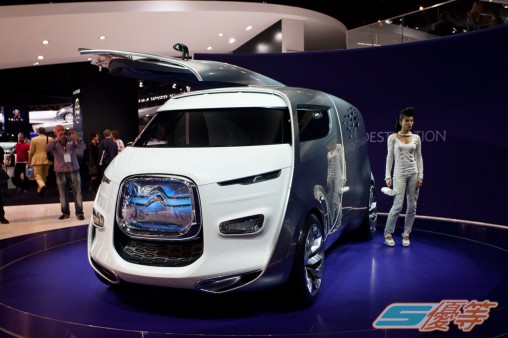 (This is in my opinion the "sci-fi hipsters" wet dream, and Citroën did not stop at just keeping this bus-like concept just wild in itself, they actually had three young futuristicly dressed and face-painted individuals to accompany it while it spun around and around. Looks like their take on the future is that we will all look hideously bored, as we noticed they did just that with a passion; don't ask me how you look "passionately bored"- just look at these guys…)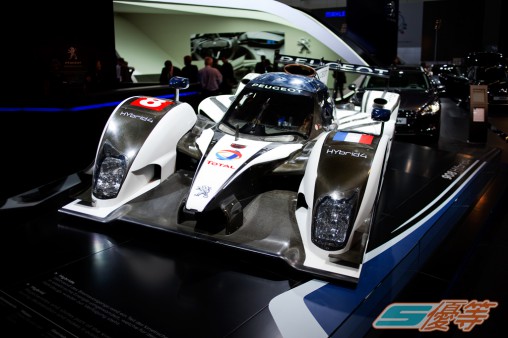 (Whoooo! At least we found one real piece of gold here in the Peugeot section which was their Le Mans racecar that just looks so incredibly mean in person! Fun memory here is that it was among the first places we saw at the expo just after a really stacked BMW press-show. Rehersing our first unofficial "100 seconds of…" segment and all reminds me of a lot of excitement!)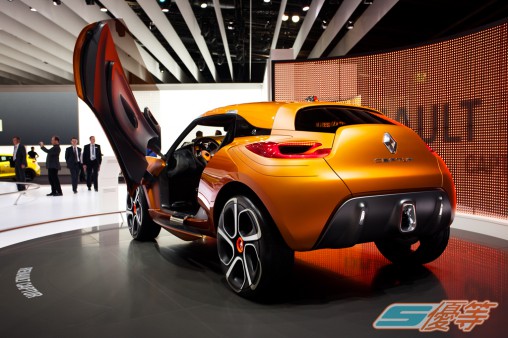 (At least Renault put a lively colour on their concept which actually looks quite good compared to a lot of other sportier SUV-type of vehicles on display in Frankfurt? Not digging the "Dotz-style" wheels though although they do make up for their tacky look in sheer size.)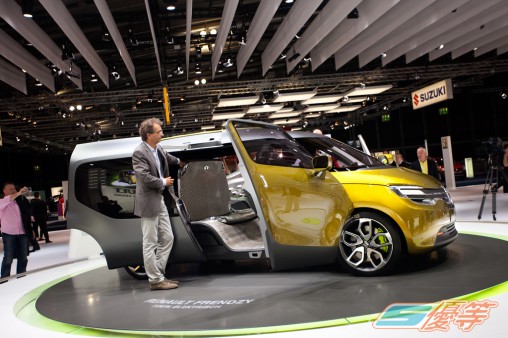 (Another piece from Renault stand which felt like a bit more realistic and not too far-fetched concept. Dig these wheels a lot better then their other concept, and the colour-combo isn't too bad either. Nice to see some real stopping power in those huge front calipers too!)
Maybe not the gallery in SUPERIOR SELECTED that will make you rave to your friends about us, but we still hope you like getting a bit of everything from the FRANKFURT MOTOR SHOW. Iam sort of amazed Martin had time to shoot all these pictures and none of them really looks below average (understatement). Feel free to give the lad some well deserved critisizm! 🙂
Not stepping of the gas here, what was accomplished at the expo must come out so we can leave this incredible event behind us. More SELECTED gallerier later today and plenty of VIDEOCLIPS as well!
I really wish Harvey @ Epic Mealtime could do the intro for this mixed gallery of Suzuki, Kia, Mazda, Infiniti, Honda and Lexus since its got m0ar of everything we like  from the far east that was shown @ FRANKFURT IAA 2011 MOTORSHOW!
Since its hard to make SUPERIOR SELECTED galleries of each brand individually, Martin BILBILDER.SE Persson decided to shuffle it around a bit. I think it also makes for a quite more interesting read as well, so please comment on how you like it? 🙂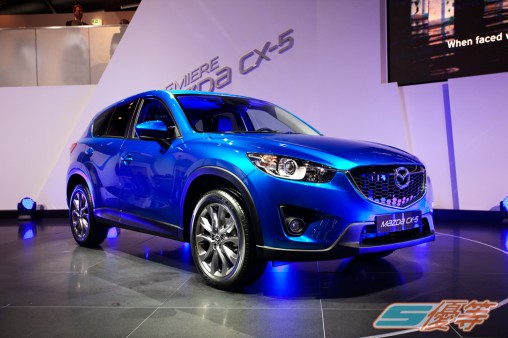 (I do hate to throw probably a lot of peoples hard work under the bus, but I have to do it times x2 this time. First of all, Mazda did not bring anything even remotely interesting for us to make in-depth coverage of; we were actually hoping to get some Furai at least. But seeing this CX-5 sports SUV or whatever those insanely watered out classes are called- it really put Subarus similar latest model to shame *will still forever remember it by its revelation which was similar to two socks being crossed and then pulled apart…*)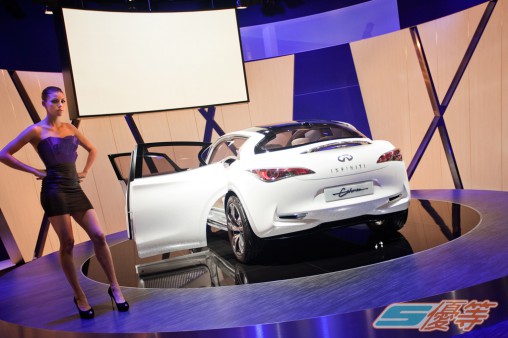 (This beautiful very "catwalk-materialish" model actually summarized the whole attitude of the Infiniti stand quite well. Cold, a bit stale; but with some nice content despite that. I just feel that if likewise this lady would have shown a smile or twitch, and Infiniti themselves would have put more effort into "loosening up" instead of keeping dark costume dressed goons (!)- they would have left more of an impression on us…)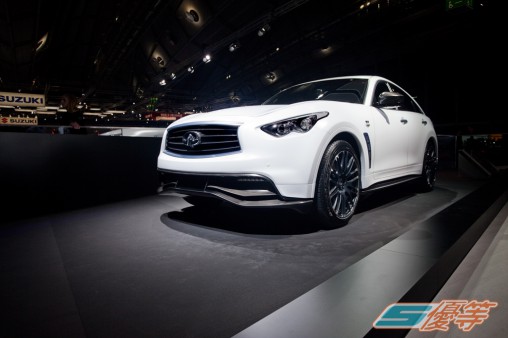 (And keeping to Infiniti, here is a SUV which was a Sebastian Vettel edition with loads of damn nice carbonfibre to an often forgotten but highly desired car. What you see is what you get, nothing more then this to highlight and give a contrast to the clean exterior- I guess they tried to go "german" in a stale boring way this time in Frankfurt?)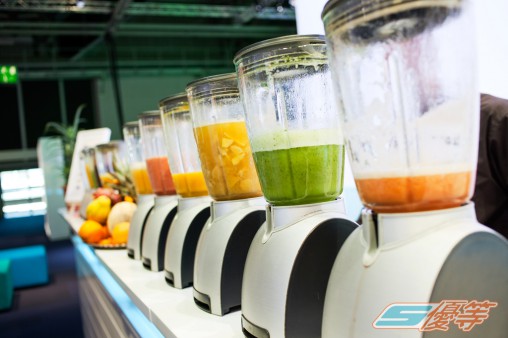 (Totally different story at Suzukis stand which offered the only juice/smoothie-bar of the expo! Me being a closet health freak when occasions to be one arise; never hesitated to ask for a shot of any of these colourful babies. More plus for having vibrant young girls that gave more then just good looks, as PIERRE BLOGS ABOUT HERE in swedish they also "knew their" stuff on for example the new Suzuki Swift Sport coming out soon!)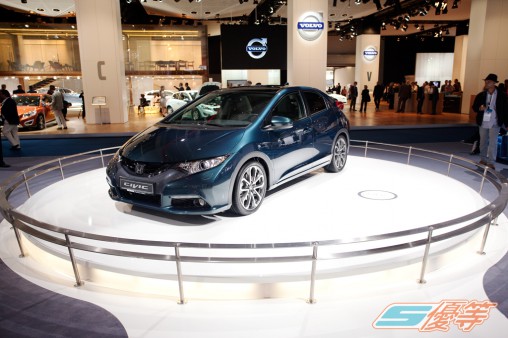 (Time for you guys to pick this new Honda Civic 2012 apart a bit more then what our "100 seconds of…" VIDEOCLIP did. I for sure disliked the rear part, but had some good vibrations of the front end which has to compete with the Mercedes CLS in most dramatic decrease from windshield and forward. Get what I mean? Post your opinion on the model that started it all in the US when it comes to "JDM-tuning"…)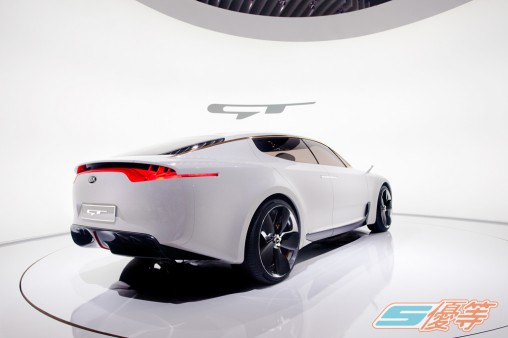 (Here is something odd, guess which automaker had a really talked about concept that stood out among many? Kia (!) with its bold and daring GT concept which they hope will spawn a cheap rear-wheel drive car in the future?! This one had a very luxorious feel to it, and if the gold arches around the pillars doesn't tell the story then I doubt anything will.)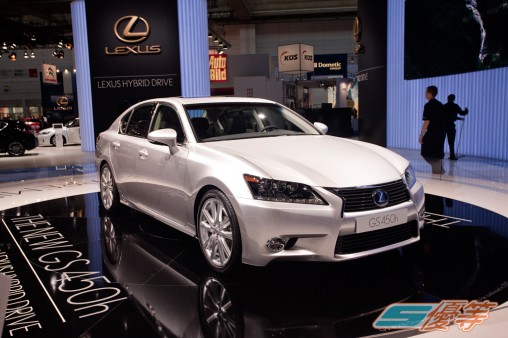 (There was some interest regarding the next generation of the Lexus GS and I think we can all safely say, this is basically a IS combined with a LS in terms of exterior looks. I think its sort of bland, and being an Toyota Aristo and Toyota Soarer owner myself I was quite fond of the previous generations front. But I doubt VIP-companies in Japan like Junction Produce will need much time to start giving the newest generation some love- and rest assured our hearts will follow to accept this generation of the GS as well…)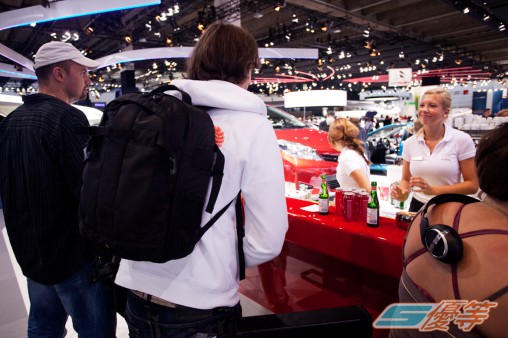 (Well well, have you observed the picture and come up with your own funny caption on why this girl appears so happy to see me? Don't bother as its probably because it must have become quite obvious we used the Toyota "café" setup in their stand as a station to catch our breath several times a day. Big thumbs up to them for this generosity to the press, but honestly it was the only thing besides the FT-86 concept we felt was interesting here. And oh, don't miss the "100 seconds of…" VIDEOCLIP of that one either!)
I just can't help myself saying "damn I miss Frankfurt" seeing all these pics again, it was on location in the eye of the storm impossible to comprehend how impressive the whole experience was- many many memories we were not awere of at the moment were created in every single minute of the two days we stayed there…
Hope you enjoyed this one, got some smaller galleries coming out throughout the day with some French and American brands showing what they got.
Always feel free to comment below if you are curious about something, been a certain lack of that from you- go on and please Martin as well by liking HIS FACEBOOK! 😉
Coming of the CADILLAC CONCEPT we did a video of, we got another impressive one from Mercedes that has "luxury in the future" written all over it- so coming from one of the German giants it was a blockbuster indeed in FRANKFURT IAA 2011 EXPO!
I think the best line about this concept was used in the video, that even Lady Gaga would blend in and not look her usual crazy self if she sat in this car. Fun to see a brand very aiming towards more strict and "business" sort of appeal make both this luxury concept and the A-klasse they also did so wild!
VIMEO:
Frankfurt IAA Auto Expo 2011 – 100 seconds of Mercedes Luxury Concept from Superior Media on Vimeo.
YOUTUBE:
httpv://www.youtube.com/watch?v=1W5bBkJvDLs
I was lucky enough to catch this beast in motion for a few seconds before I was drowned in the crowd that was present during Mercedes mega-pressrelease show, and if this is a hint of how the future might look Iam all for it– sign me up today!
This is the last video feature of the day, in total there is around 30 of them and we gather them all IN THIS POST so you can easily keep track of the action.
Hope you've all had a pleasant sunday, and before you go to bed- Lamborghini will give you something to dream about as Martin Persson has a gallery coming… 🙂
Expect to  be taken back in time in the best possible way with Cadillac Ciel concept which was one of the most "genuine" design studies revealed at the FRANKFURT IAA 2011 MOTOR SHOW.
By "genuine" I mean that it wasnt some posh attempt into pleasing everyone or trying to be something your brand is not, instead its what concepts is all about- giving some "haute couture" of the most extreme things people relate to your brand; and also a bit of history put in it. Rating this as one of the best cars of the expo, enjoy:
VIMEO:
Frankfurt IAA Auto Expo 2011 – 100 seconds of Cadillac Ciel from Superior Media on Vimeo.
YOUTUBE:
httpv://www.youtube.com/watch?v=FCLq6KixKiw
We wish all automakers refused to follow trends and feel ashamed of their heritage, but maybe this is a unique case when it comes to Cadillac as a brand? We like it, bigtime…
Feel free to give us your own humble opinions on this Cadillac Ciel concept, and to see more "100 seconds of…" clips we got ALL OF THEM HERE (BOOKMARK!).
Here is another video world premiere from FRANKFURT IAA 2011 MOTOR SHOW all of us "JDM-freaks" will find interest in; the brand new generation of the Honda Civic 2012!
They claim this car is "two generations ahead" of its production cycle, but I would have to say that by looking at the exterior- its a bit too bold statement. Maybe it will live up to those words after a testdrive, but we were not too conviced by this first impression sadly…
VIMEO:
Frankfurt IAA Auto Expo 2011 – 100 seconds of Honda Civic from Superior Media on Vimeo.
YOUTUBE:
httpv://www.youtube.com/watch?v=8wFTI5EJqOo
We have no doubt about that all the different tuners in Japan vill still make this something interesting, but I guess we are still living in a world where we think about things from an enthusiasts perspective; but in reality automakers have to create cars that will sell to the general public.
Feel free to give us your own humble opinions on this new generation Civic, and to see more "100 seconds of…" clips we got ALL OF THEM HERE (BOOKMARK!).