Here comes another personal blogpost from someone who is usually quietly doing the work behind the camera and editing all our Videos. David Johansson gives the finale to his resumé of the year, mixed with pictures, the different videos he did- and of course some of his own personal opinions. You can find a lot of the movies being posted during the evening and tomorrow at our FACEBOOK GROUP, which you are more then welcome to share as well! – – – – – Juli – SCS Trackday & Time Attack @ Kinnekulle Ring En liten banträff för de med JDM bilar i Sverige. Körningen är för allt ifrån nybörjare till att under eftermiddagen hålla ett redigt Time Attack för de allra snabbaste bilar, det anordnas även ett JDM Face-off där snabbaste klubbarna i Japan-Sverige möter varandra. Jag hade min egen bil med mig denna gång för att själv så köra några varv. Det skulle bli första gången ut med Imprezan och andra gången ut på bana i förarstolen för mig. Det blev en hel del varv på bana varvat med filmning från sidan av.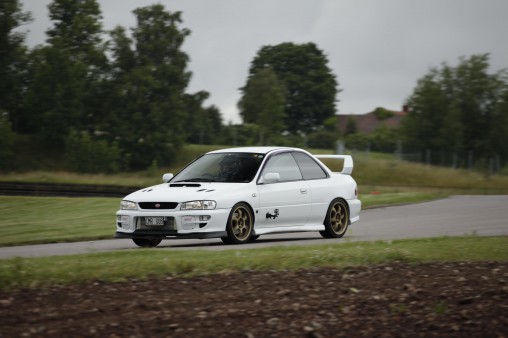 Även om det filmades under denna träff så har det inte blivit någon film än. Det fanns helt enkelt ingen tid till det. Filmen från Gatebil @ Mantorp Park va inte färdig än och när den va färdig så va det nya filmer som prioriterades före denna. En riktigt kul dag som avslutades på ett underbart sätt med några av de närmaste i Superior. Grymt välsmakande middag på Forshems Gästgiverigård. Menyn bestod bl.a av smörstekt abborre, tjälknöl av älg och ramslökssoppa. Allt va otroligt gott.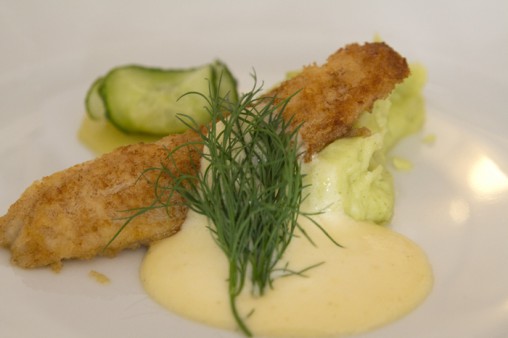 6 Augusti Action Meet @ Mantorp Park: Som ni märker så va det en hel del evenemang under sommaren. Detta årets Action Meet lockade lite mer än förra året. Det skulle nämligen köras en PRO-INT Drifting tävling. Väl på plats så börjades dagens filmning borta vid dragracingen. Va där borta under första rundan och försökte få med det mest intressanta. Efter det så gick ja bort till driftingen. Tyvärr så va denna tävling inte jätte bra organiserad så bra så det blev en hel del uppehåll så kort efter jag kommit bort till driftingen så blev det ett långt uppehåll så gick jag där ifrån för å ta en paus. Det behövdes då det va varmt å soligt denna dag. Driftingen kom tillslut i gång och de kördes ganska så friskt. De som utmärkte sig mest va en norrman vid namn Kenneth Moen och en finne vid namn Juha Pöytälaasko. Inte konstigt att de knep första och andra plats kanske?
Det pågick ju även en utställning denna dagen. Inget jag är så speciellt intresserad av men va tvungen att filma det lite också ju. Fanns ju faktiskt några bilar som va väl värda att se.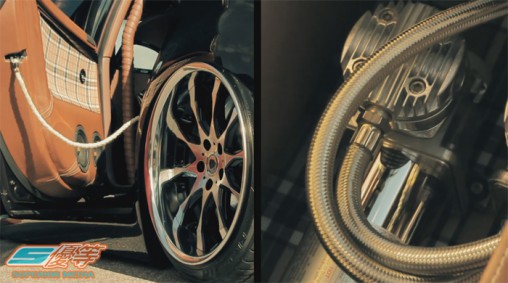 Efter detta evenemang så va ja inne på min sista semestervecka så jag la ca 10h per dag för att få klart filmen. Va ett jävla slit men resultatet tycker jag blev bra.. Superior Media – Action Meet 2011 @ Mantorp Park from Superior Media on Vimeo. 20-21 Augusti Autoropa Trackday på Ring Knutstorp & Vallåkraträffen + SCS Trackday & Time Attack på Mantorp Park: En fullspäckad helg med hela tre stycken evenemang. Allt från bilar värda miljoner smiskandes runt banan till hemmabyggen på utsällning till Sverige snabbaste JDM bilar på Mantorp Park. Allt detta blev för mycket för mig. Aldrig mer fler än ett evenemang per helg. Autoropas träff på Ring Knutstorp va riktigt trevlig. Trevligt folk och massor mer Ferrari bilar bla. en 599XX som vi fick sätta kameror på. Dock lät den så sjukt högt så mikrofonen flippade =). Träffade även på Växjös egna lilla racing legend Stefan "Lill-Lövis" Johansson. Han va bl.a där och skjutsade runt folk på banan. Helt ok sysselsättning =). Det gick sådär med filmandet, tyvärr blåste det en hel del så ljudet blev inte alls så bra, tror även de höga tonerna från Ferrari bilarnas motorer gjorde sitt.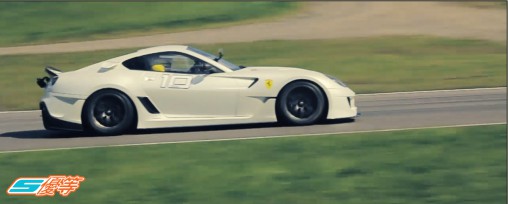 Vi kunde tyvärr inte stanna så länge som vi hade velat utan va tvungna att dra vidare till Vallåkraträffen. Väl där så känner vi oss lite slappa och trötta eller va man ska säga. Klivet från Ferrari bilar för miljoner till byggena på Vallåkra va ganska så stort om man säger så =). Vi monterade go pro kamerorna fram på pierres lexus och körde igenom hela området ett tag. Stannade folk på vägen för att ställa lite korta frågor om va de tycker om Vallåkraträffen. Vi parkerade bilen och gick sen en runda för att filma lite mer seriöst.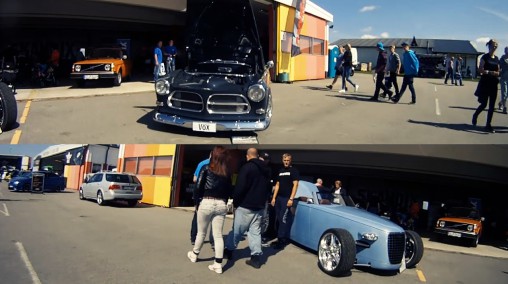 Well träffen gick till enda och kvällen fortsatte med middag hemma hos Henrik som är gurun bakom Major Aero prylarna. God grillad mtd stod på menyn. Välbehövligt efter en lång dag. Jag och Pierre drog sedan in till Helsingborg för att kolla kvällsaktiviteterna men de kändes som vi va lite sena och allt roligt va över. Så ja packade ihop och drog hem till Växjö för att få
några timmars sömn inför morgondagen. Söndag och SCS Trackday & Time Attack på Mantorp Park: Går upp tidigt och beger mig iväg i Imprezan. Tog Imprezan upp för på plats skulle Martin " Bilbilder.se" ta ett gäng foton på den.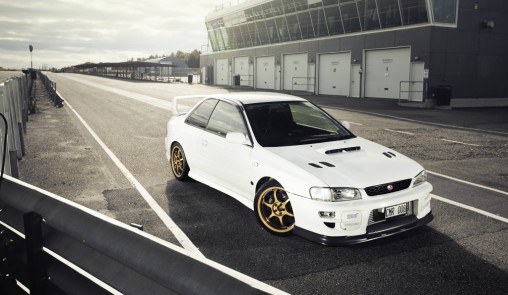 Vädret va mulet men inte kallt, vilket va kanon för mig som fotograf. Mulet = jämt å mjukt ljus överallt. Det va bara att slänga upp kameran och börja filma när alla förberedde sig för körning. Körningen rullade igång och en mäng riktigt fina och snabba JDM bilar vrålade runt på banan. Vissa gick det mindre bra för. T.ex när Dan från Superior Syd verkstaden va ute å körde med hans sambo Anushas MX6a så gick motorn åt helvete i slutet av långa rakan. Det va inte det enda haveriet under dagen utan Lasse från JRM sköt packboxen mellan motor och låda vilket resulterade i ännu mer sanering. En som va rätt nära ett möjligt haveri va Martin "Gzon" Gustavsson i sin Skyline R43 GTR V-Spec. Som ni ser på bilden nedan så ryker den lite väl mycket för att vara kry =).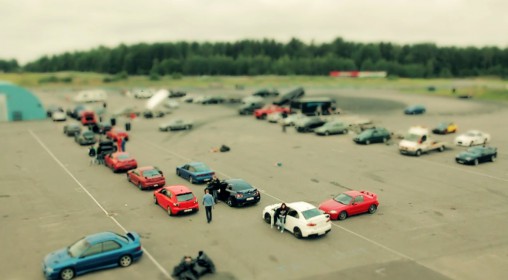 Filmande rullade på någorlunda bra, men mot slutet av dagen så fanns det ingen inspiration och kraft kvar. Jag va helt slut och ville bara hem och sova. Vädret, som framåt lunch blev riktigt fint, molnen skingrade sig och solen kom fram vilket resulterade i att det blev väldigt varmt, och det faktum att jag hade hållit igång hela lördagen också tog ut sin rätt . Och som ni alla vet så finns det inte mycket till skugga på Mantorp Park som man kan gömma sig i. Fast när dagen nästan va slut så piggnade jag till rätt mycket. Magnus Jinstrand va på plats med sin groteskt feta Cobra V12!!Han va på plats för Martin "Bilbilder" skulle fota den och vi passade även på att sätta på gopro kamerorna på bilen och släppa ut han på banan i ett par varv. Jag blev den lycklige som fick åka med =). Han sa att vi skulle smyga runt lite stilla för kopplingen va dålig och vi hade inga hjälpar. Men kallar han det smyga så vet ja inte hur han kör när han ger fullt. För jävlar va den bilen går!!!!! Ljudet från den där kompressormatade Mercedes V12 med rakarör är porr!
Det va en fin avslutning på säsongens banevenemang. Endast en träff för oss i Superior gänget kvar. 8 Oktober Superior Meet: En träff med god mat och fina bilar vid Superior Workshop i Katrineholm för oss i Superior familjen. Jag körde tidigt hemifrån, självklart med Imprezan. Solen va precis på väg upp över träden och disen låg tät på vissa ställen. En bit efter Vrigstad så va ja bara tvungen att stanna och ta några bilder på bilen.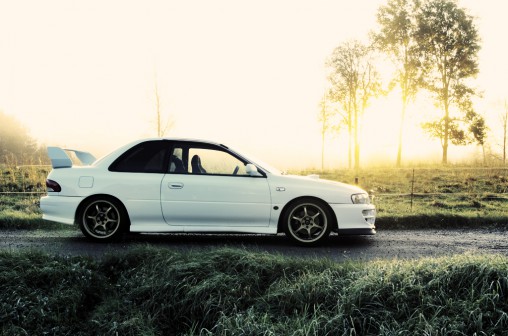 Väl framme i Katrineholm så va jag först på plats, ingen annan syntes till så det vara bara att vänta. Vädret hade blivit sämre, hösten hade kommit till Katrineholm och det va kallt och blåsigt. Dagens uppdrag blev bl.a att filma en burnout tävling och Mickes nyinköpta Skyline DR30 RS-Turbo.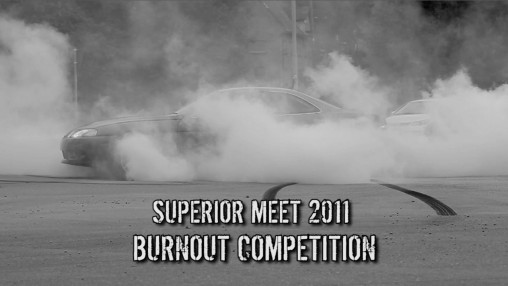 Tiden sprang iväg fort och vi packade ihop och några tappra själar drog vidare till Södertälje för en sushi middag på Mickes favorit resutrang, (tror ja iaf =)) Resturang Minako. Efter vi fyllt våra magar igen så va det dags att dra hemåt, 38mil framför sig innan man va hemma. Hade dock sällskap av Dan och Anusha så jag slapp köra helt själv hem. Superior Meet 2011 Burnout Competition [Vote for your favourite!] from Superior Media on Vimeo. Detta blev en helt ok avslutning på en riktigt kul och fullspäckad säsong med många minnen. Men om jag inte har fel så tror jag att 2012 kommer bli ännu bättre :). – – – – – Under 2011 har vi på Vimeo haft 187000 spelningar och på Youtube har vi har 170000 spelningar. Det tycker jag är helt ok för oss som är så nya på detta och bor i lilla Sverige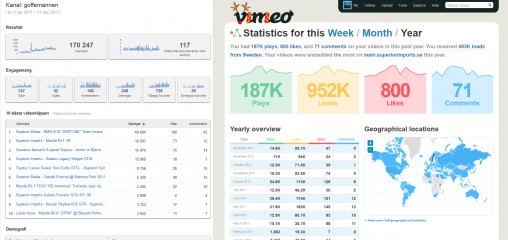 Vill tacka alla personen som hjälpt till med filmerna under året , framförallt min sambo Helena som har fått bl.a. hjälpt till att bära grejor runt på banorna men även fått stå ut med den mängd timmar jag lagt framför datorn för att redigera. Vill även tacka alla som har hjälpt till att dela våra filmer runt om på internet. Utan er hade vi inte nått ut till så många som vi gjort! //David Johansson, Chief Producer @ SUPERIOR MEDIA